Art does not have to be a passive activity; it can be a transformative experience that makes people think.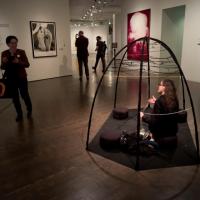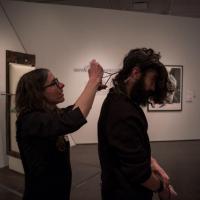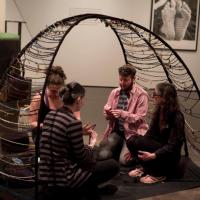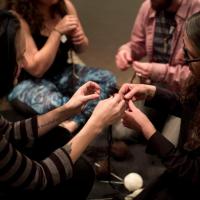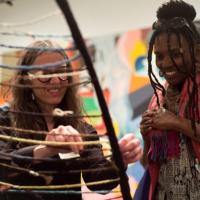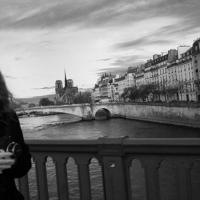 For the shortest of the six residencies, Viviane Le Courtois built a Global Thinking Pod inside the exhibition Audacious: Contemporary Artists Speak Out. She was interested in creating space in the galleries where visitors could slow down, make something, and connect with new people.
Viviane invited visitors to sit down with her in the Pod—an ever-evolving fiber structure—to discuss the artworks surrounding them. She also welcomed visitors to participate by either crocheting chains out of different fibers or by donating a piece of their hair, which she wove directly into the Pod's frame.
Viviane was present in or around her Global Thinking Pod every hour that the museum was open and, despite the provocative nature of the request to donate hair, she created a safe and intimate space for visitors within the Pod. The design of the Pod allowed for intimate conversation and reflection and the resulting structured spontaneity pushed the boundaries of how far visitors were willing to interact with strangers in a museum setting.
About the Creative: Born in France, Viviane Le Courtois is a Denver-based artist who creates process-based, conceptual, and participatory installations, performances, sculptures, videos, and prints that connect art to everyday life. She is a curator, teacher, and the Studio and Gallery Program Manager for DAVA (Downtown Aurora Visual Arts), as well as co-founder and conceptual director of Processus, The Institute for Art and Life, a co-working and co-thinking space.
Image at top: Viviane Le Courtois. Photograph by Christopher Perez.