I'm already so critical of myself that I want to be able to make mistakes and be okay with it, and not have someone think that it has to be perfect. Because perfection is, like, really overrated.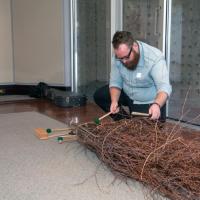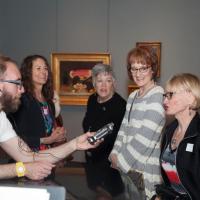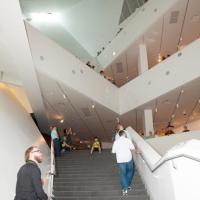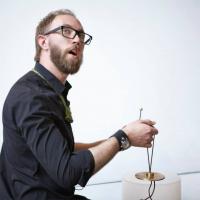 During his residency, artist, composer, and musician Nathan Hall created music and sound pieces inspired by artworks in the DAM's collection. His projects ranged from unexpected installed musical moments that visitors could interact with anytime, to large-scale live performances announced in advance.
With a "piano office" right in the middle of the Still Life Gallery, Nathan invited visitors to be everything from collaborators to listeners, and to make new connections between music, visual art, and the creative process. Tension over unexpected materials in gallery settings—such as baby wipes, harmonicas, and a bundle of sticks used as a percussion instrument in our western American art galleries—pressed Nathan, the DAM, and visitors in new ways.
Nathan increased his own comfort level with risk-taking, sharing his process, and working interactively with the public. He also pushed the potential for using music and musical instruments within the museum space, which challenged both DAM staff and visitors to think more creatively about how sound can convey the essence of artworks and the experience of visiting a museum.
About the Creative: Nathan Hall's works have been called "fearless" in their multifaceted expressions of the composer's personal and musical identity. Nathan uses music as an artistic medium to explore a variety of fields including science, nature, the fine arts, history, and sexuality. Many of Nathan's works are based on his travels, mapping out a geography of his experiences while taking the listener on their own personal journey. Other works are inspired by the composer's sexuality and experiences as a gay man, creating a special intimacy between performer, place, and audience.
Image at top: Composer and artist Nathan Hall. Photograph by Jarrod Duncan.