What I want to show to people is something that's more human, something that they can relate to in a way that they would relate to another person, and see this data in a way that makes emotional sense to them.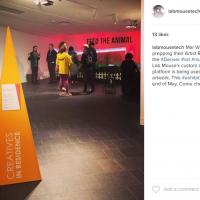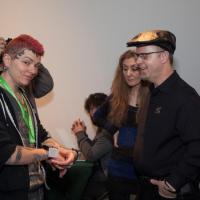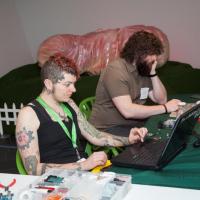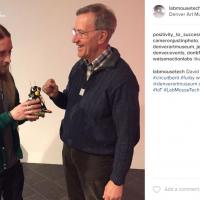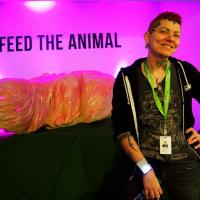 Mar Williams worked with a collective of local "hackers" on an interactive installation that explored the connection between technology, art, and individual identity. Mar's residency involved experimentation with Bluetooth technology to track visitors' interaction with the art and each other in the exhibition Audacious: Contemporary Artists Speak Out. These interactions could be used to create and visualize a unique identity for each visitor.
Mar's medium was something we had never experimented with before; as such, it was totally uncharted territory. This was a technically and technologically challenging residency that, in the end, it proved more of a learning launch pad than a final, polished project. Although certain elements never came to fruition, Mar did attract a new audience to the museum and got people excited about interacting with technology at Untitled Final Fridays in March and April 2016.
About the Creative: Mar Williams works in a number of mediums, but maintains an interest in the artistic applications of emerging technology, open source, and DIY. As someone who enjoys "the intellectual challenge of creatively circumventing limitations," Mar proudly represents the hacker identity and is a leader in the DIY Denver arts scene. Mar is a past Untitled Final Fridays collaborator, an experienced designer, and a key instigator of mischief and collaboration in the local creative community.
Image at top: Mar Williams in the Creative-in-Residence space at the Denver Art Museum.