One thing people are an expert in is in their own curiosity and in their own questions...So why don't we empower people to be experts in curiosity and engage with that mindset, which is really the mindset that a child comes to the museum with?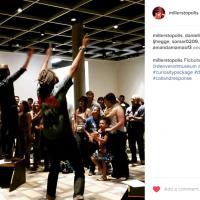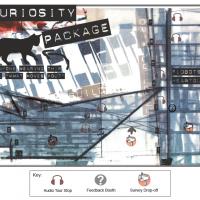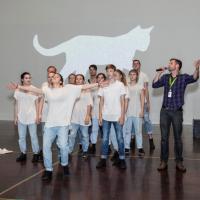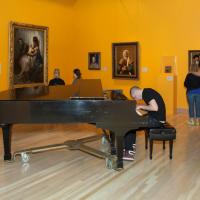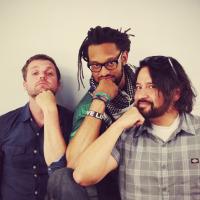 Alternative hip hop group the Flobots focused their residency on a series of performances and programs that both gathered and reacted to visitors' emotional responses to the art. Recognizing that not all visitors are experts in art and art history, the Flobots instead chose to engage visitors through something they are experts in: their own emotions.
They developed a "curiosity package" of activities, including an audio tour with accompanying visitor surveys, which enabled them to create a dialogue between themselves, visitors and artworks, and each other. The intention was to "reward" visitors who were more curious with new and deeper experiences.
In addition to hosting open studio hours, the Flobots partnered with local musicians and artists to choreograph live performances interpreting museum artworks through the lens of an emotion. They also presented smaller, pop-up performances that offered visitors spontaneous interaction points. The Flobots incorporated multiple perspectives, which advanced the idea of the museum as a place of dialogue rather than a unidirectional monologue.
About the Creative: The Flobots are an alternative hip-hop band from Denver made up of Jamie Laurie ("Johnny 5," emcee and vocals), Stephen Brackett ("Brer Rabbit," emcee and vocals), and Kenny Ortiz ("Kenny O," drums). In Colorado they are recognized for their community endeavors. In 2007, they founded Flobots.org, now Youth On Record, an organization dedicated to empowerment through creative education. They are the recipients of the 2009 Cesar Chavez Leadership Award and the 2010 Mayor's Award for Excellence in the Arts. Their current project, NO ENEMIES, invites the public to use music as a tactic for social movements.
Image at top: The Flobots (from L to R: Jamie Laurie, Stephen Brackett, and Kenny Ortiz). Photograph courtesy of The Flobots.