With Untitled: Creative Fusions at Home approaching on May 15, 16, and 17, we asked a few of the event's participating artists to tell us how they've interpreted the theme of "Unearthing Place" and what activities viewers can expect to see when they hit the virtual stage.
For this Untitled—the first entirely online—our two featured artists Becky Wareing Steele and Libby Barbee collaborated with local artists to develop a three-episode variety show exploring the diverse narratives of the American West through shared experience and heritage. The theme is inspired by the Denver Art Museum's latest exhibition, Natural Forces: Winslow Homer and Frederic Remington, which can be explored now through a guided virtual tour or by browsing our digital exhibition guide.
Read on to see what our creative partners had to say about the "Unearthing Place" event, and be sure to join us on Facebook and YouTube next weekend (details here).
Collaborators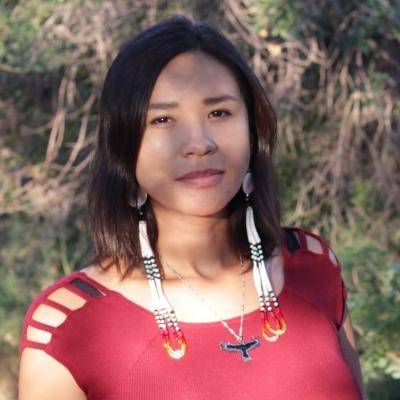 Kristina Badhand
Kristina Badhand will lead a ledger art activity, combining the history of trade and war in the West. Ledger art came from the West, so she will explore how it has reemerged and evolved into a contemporary Native art style of the present.
What does "Unearthing Place" mean to you?
Looking into the past and memory of the land, creating a new future that pays respect to the past while reimagining the future.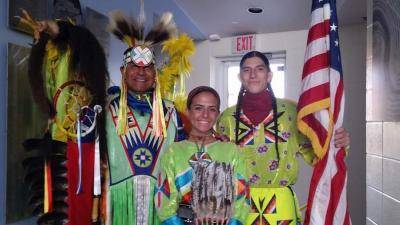 Brad Bearsheart
Brad Bearsheart will perform with Team Bearsheart, alongside Gabriele, Ella, and Nathaniel. They are a family who travels the world sharing the Lakota style of dancing. They'll be performing men's Fancy Feather War Dance and Children their World Championships style of Hoop Dancing.
What does "Unearthing Place" mean to you?
How the world evolved in early living, and now almost forgotten.
Find out more about Team Bearsheart on Facebook.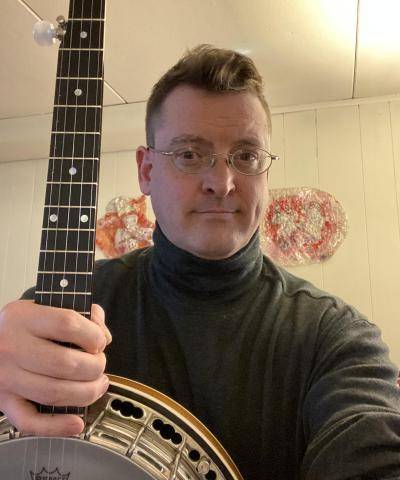 Scott Brown
Scott Brown will be playing traditional banjo songs from the 1850's to 1880's, encoring the spirit of a frontiersmen playing familiar songs of home after a long day in a new and foreign land of beauty.
What does "Unearthing Place" mean to you?
The Boulder Valley is breathtaking the first time you see it. Chief Niwot's curse on the Boulder Valley haunts me with this simple truth: "People seeing the beauty of the valley will want to stay, and their staying will be the undoing of the beauty." Unearthing place reminds me of the unearthing of the Arapahoe people, and the unearthing of traditional communities due to gentrification as the area experiences a modern age real estate "gold rush" that prices people out of their communities.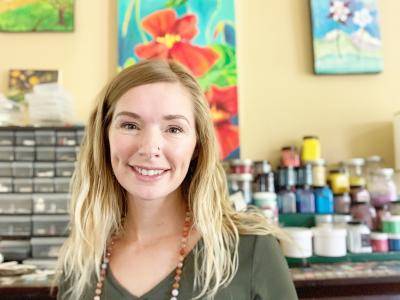 Kate Chawula
Kate Chawula will host an activity guiding participants to create their own memory postcards from a favorite place they've been or would like to journey to. Vintage postcards will serve as inspiration and historical context and a variety of art supplies will be on hand to encourage and inspire patrons. These postcards can then be sent in the mail or kept as mini works of art.
What does "Unearthing Place" mean to you?
The environment, or the place we live in or vacation in has an impression us. Most people can probably all recall a trip they've taken or a place they visited that was different than their own. These memories of place inspired many artists, just as Homer and Remington were inspired. Place and environment has shaped me into the artist I am today, and the landscape still provides inspiration for my current work creating watercolor paint for artists. The West is a very special landscape that has both fascinated and inspired artists since the beginning of time. In this Untitled, we will explore personal relationship to places through the creation of postcards.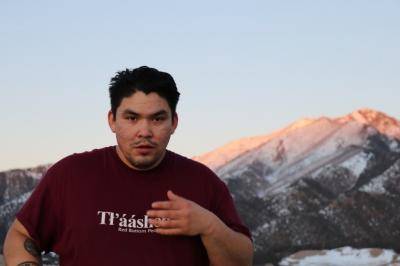 Joshua Emerson
Have you ever wondered what it's like to be Indigenous in a colonized world? Then don't miss Joshua Emerson loudly prattle on about the subject through the mediums of comedic storytelling and stand-up comedy.
What does "Unearthing Place" mean to you?
Looking at Natural Forces: Winslow Homer and Frederic Remington, I am reminded on how 'manifest destiny' was a such an unnatural force in the American West. Denver is a city where the same people with a 'Colorado Native' bumper sticker cannot explain what happened at the Sand Creek Massacre, and that makes me angry as an Indigenous man. I hope one of the things we unearth as a part of Unearthing Place is a truer sense of the role that Indigenous people played in the West's past and a better understanding of our role going forward.
Find out more about Joshua at his website or follow him on Instagram.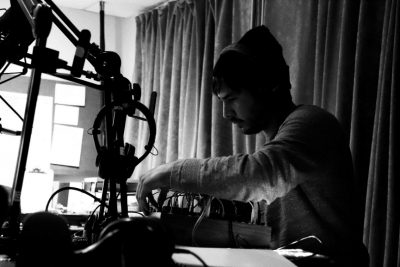 Dylan McLaughlin
Dylan McLaughlin is a sound/video artist working in forms of resilience to and deconstruction of tensions in relationship to violence embedded in land. Looking to sites of extraction, his work explores liminal spaces through sonic forms of witness and implication.
What does "Unearthing Place" mean to you?
Landscape creates frequency. A complex ensemble that orchestrates the way we use language, the way plants root, the way water flows, the way tectonic plates shift. It is possible to witness these frequencies—as light, as color, as geography—the ensemble of sounds that create place. To humans and animal kin, these frequencies are perceived audibly, as sound—biophony. To land, in the lower register, these frequencies are movement—geophony. These frequencies help clarify our understanding of the natural world. Human beings have embedded landscapes with infrastructure that disrupts acoustic ecologies—anthrophony. Jets fly overhead, power lines stretch across place, wireless communication emitted into the atmosphere, in a violent act of dissonance.
Find out more about Dylan on Facebook or follow him on Instagram.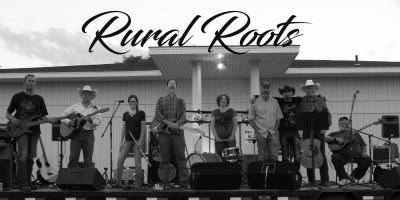 Rural Roots
Rural Roots is an ad hoc semi-improvisational honky-tonk ensemble, and will play several sets of country folk music.
What does "Unearthing Place" mean to you?
Our band counts a cowboy, a bull-rider, a pig-farmer, a diesel mechanic, a well digger, a sculptress, a novelist, a sound engineer, and a member of the Colorado Country music Hall of Fame among its members. We're an amalgamation of ideologies who meet once a month at our local community center to share with our neighbors a collective and expansive love of music via a madcap variety show of singers and strummers. Although Denver is packed to the gills with talented honky-tonk acts, none can match our deep personal involvement in the rural paradise of eastern Colorado or our life experiences which so closely mirror the poignant lyrics of the songs we perform. By hosting us for this event, the Denver Art Museum is opening its doors to a group of folks who may never otherwise interact with the museum, and whose charm will help bridge the vast chasm of the rural/urban divide.
Find out more about Rural Roots on Facebook.