April is Autism Awareness Month, and all month long organizations across the country hold events and activities to raise awareness, appreciation, and acceptance of those with autism spectrum disorder (ASD). In the United States it is estimated that 1 in 68 children is diagnosed with ASD each year, and about 1 percent of the world's population falls somewhere along the autism spectrum.
The Denver Art Museum is a proud partner in the movement toward appreciation and acceptance of individuals with autism, embracing and championing the unique aspects of all those who walk through our doors. As part of the DAM's mission to enrich the lives of present and future generations, we seek to create a welcoming museum environment, and foster a meaningful shared experience, for families with children on the autism spectrum.
Low-Sensory Morning
Toward this goal, we are piloting a Low-Sensory Morning at the museum for families with children on the autism spectrum. We will open our doors before public hours to welcome families who prefer to explore the museum in a less sensory-stimulating way. Loud gallery sounds will be turned down or off, attendance will be limited, and there will be numerous hands-on activities and artmaking projects for children and their families to enjoy.
Furthermore, in advance of their visit, families will be provided a social story, visual schedule, and sensory map of the museum—tools meant to help prepare family groups for their outing, as they can familiarize themselves with the various activities and spaces they will come in contact with during their visit. Additionally, these tools aim to help increase the comfort and confidence level of families while in the museum. For example, if during their visit a family decides they want to find a quiet space in the museum, or perhaps a place where they can play a hands-on game, they can reference the sensory map to see where the best location would be.
As this is still a test event, we are requiring advance registration, so that we can keep attendance numbers low and ensure a sensory-friendly environment. Families who are interested in learning more about our access programs and Low-Sensory Mornings should contact Danielle Schulz, Adult & Access Programs Coordinator, for more information (dschulz@denverartmuseum.org, 720-913-0074).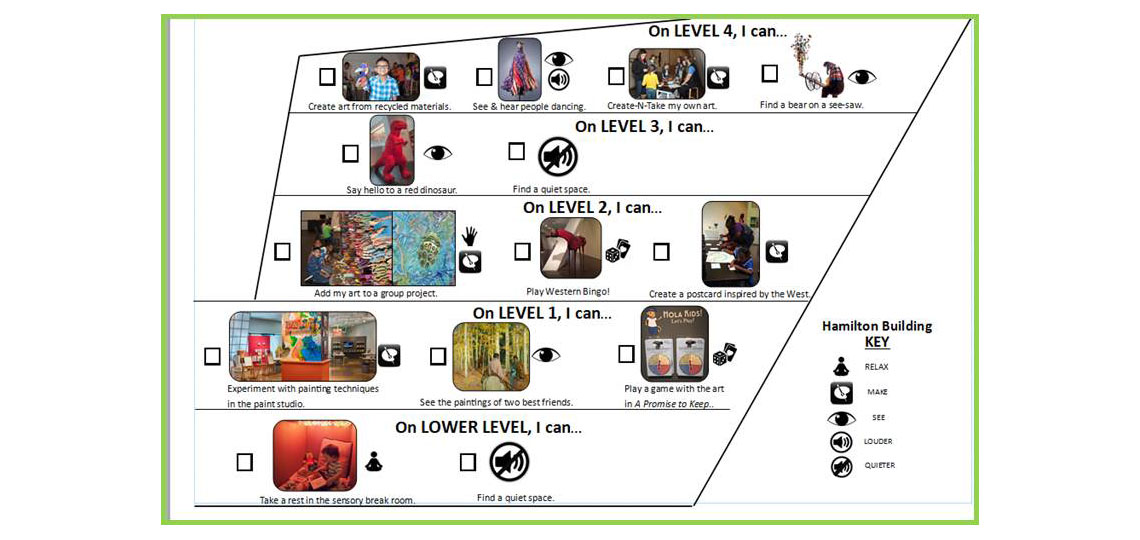 Community Partners
From the start of our initial design phase, we have partnered with community members and local organizations dedicated to serving individuals on the autism spectrum. These partners have also helped us spread the word about our test events, and most important have helped ensure that we achieve our goal of creating a welcoming museum environment. Many thanks to our partners: the Autism Community Store, Blue Ribbon Arts Initiative, Autism Society of Colorado, Firefly Autism, Ana Antonetti (occupational therapist) and Robin Baba.