You may have recently seen Scottish Angus Cow and Calf—the larger-than-life bronze sculptures by artist Dan Ostermiller—getting their annual summer bath. Above and beyond their cleaning with a specialized mild detergent, the Cow and Calf sculptures needed other treatments, including re-patination and waxing, due to the constant physical interaction they receive from the public.
The patina that gives Scottish Angus Cow and Calf its brownish-black color is actually part of the original cast bronze sculpture. A patina is formed when the surface of a heated metal undergoes a chemical reaction with a mixture of water and specific patination chemicals. The combination of specific metals and patination chemicals will produce different and beautiful characteristic colors, which can range from green, to red, to brown. In this way, patinas are like the darkening of a copper penny over time, or green color of copper roofs, but intentional.
On Scottish Angus Cow and Calf, this top layer of patination gets worn away due to frequent climbing and sitting on the sculpture. Many people do not realize that this isn't just loss of a cosmetic layer, like a paint, but instead the metal of the sculpture itself. Right before the treatment of this sculpture by the conservation department (overseen by Kate Moomaw) there were disfiguring, shiny, yellow-colored areas of bare bronze visible on both of the sculptures in the areas that see the most contact.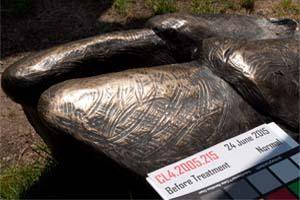 In conservation, we try to choose treatments that are reversible, as the materials we apply can age differently than the original object, and treatment choices and methods change with new developments in technology and materials. The uncontrollable climate and large amounts of human interaction of objects placed outdoors mean that treatments for outdoor sculpture are often more invasive and less reversible. To compensate for the large losses of patina on the sculpture, and visually reunite those areas with the rest of the sculpture, it was decided that re-patination was necessary in localized areas. Re-patination is not reversible, but it was chosen in this case for its durability in the outdoor environment.
So with the help of metals expert mount-maker for the museum, Steve Osborne, we re-patinated areas of the sculpture, on-site. This was done by first applying heat using a propane torch to the areas needing re-patination. While the areas were still hot, a fine mist of a sulfurated potash solution was applied, reacting with the exposed bronze to create a dark brown-black surface coloration, providing a visually uniform surface.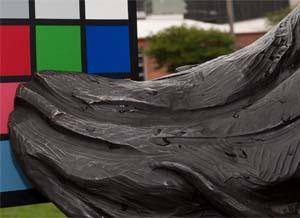 While re-patination restores the color to the damaged areas, without further protection, this patina would soon wear away. As a preventative measure, wax was applied to the whole of both sculptures and buffed out. The function of this wax is to help both with abrasion from visitor interaction and to protect the bronze from corrosion by creating a barrier between the sculpture and the environment.
And now Cow and Calf are ready to be enjoyed for another year.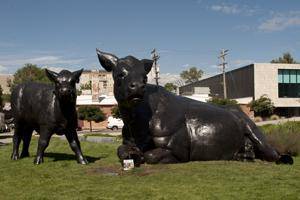 Headline image: Outdoor sculpture conservation interns Rachel Henderson and Nicole Feldman re-repatinate Cow's hoof using sulfurated potash solution and a propane torch.