Note: All Monet birthday celebration activities are included in general admission, which is free for members and youth 18 and younger. Claude Monet: The Truth of Nature requires a separate dated and timed ticket. Advance online ticket purchase is highly recommended.
The Denver Art Museum will celebrate famed French Impressionist Claude Monet's birthday on November 14, 2019, in conjunction with the exhibition Claude Monet: The Truth of Nature. The DAM will celebrate the artist's 179th birthday with cake, the launch of the DAM's first-ever podcast titled Beyond Monet, the reveal of a Monet-inspired painting by local artist Ashley Joon, a special Art & About program dedicated to Monet's birthday, and a surprise Monet-themed gift bag for one lucky visitor.
Born in Paris on November 14, 1840, Claude Monet was a prolific painter and founder of the French Impressionist movement, bridging the gap between the artistic movements of the 19th century and the modernized art world of the 20th century. Monet lived a long life and had an extensive artistic career that spanned nearly 70 years. In the Monet exhibition, visitors can see more than 120 works by Monet, including the first painting Monet ever exhibited when he was just 18 years old, along with some of his very last paintings.
Birthday Cake
Complimentary birthday cake will be served to museum visitors on level 1 of the DAM's Hamilton Building starting at 1 pm while supplies last.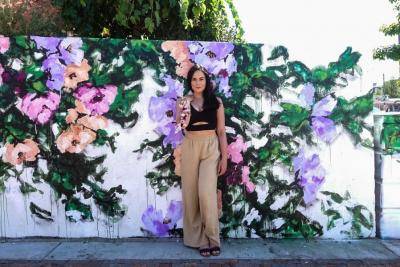 Local Artist Ashley Joon
The DAM, in partnership with PNC Bank, is collaborating with local artist Ashley Joon to create a modern interpretation of Monet's famed waterlily paintings. Visitors are invited to watch Joon's creative process in the Paint Studio at the DAM on Wednesday, November 13, 10 am–5 pm. The finished large-scale mural painting will be revealed on Thursday, November 14, at 10 am in the level 1 atrium of the DAM's Hamilton Building.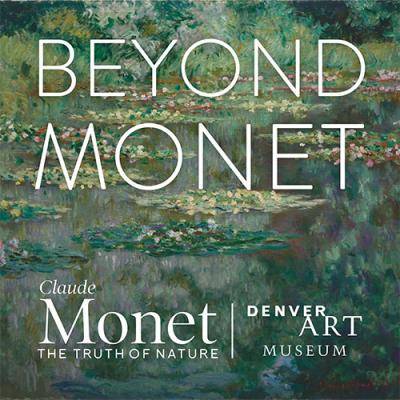 Beyond Monet: Podcast Launch
The DAM is proud to announce its first-ever podcast titled Beyond Monet, launching on November 14. In this five-part podcast series, Stefania Van Dyke, senior interpretive specialist at the DAM, shares conversations with non-art experts who respond to Monet's work through the lens of their unique expertise. You will hear from a Paris historian, an aquatics curator, a geologist, a therapeutic horticulturalist, and a weather historian. Find this podcast on the museum's YouTube account, with new episodes posted once a week, with the last episode airing on December 12, 2019. Beyond Monet can also be found on Spotify, and Apple Podcasts. This podcast was produced by Postmodern Company in conjunction with Claude Monet: The Truth of Nature at the DAM.
Art and About
Art and About tours at the DAM is designed especially for visitors with early-stage Alzheimer's or dementia and their care partners. During this monthly interactive and conversation-based program, we invite visitors to experience, explore, and connect with art as well as each other. Themes change on a monthly basis. This month's Art & About program will be on November 14 1–2:30 pm. In celebration of Monet's birthday, there will be cake, flowers to touch and smell, and a slideshow of some of Monet's best-known paintings. Please note, this program will not be held in the Monet exhibition galleries. Meet on the lower level of the Hamilton Building. For specific program information and to register, please email access@denverartmuseum.org or call 720-913-0074.
Surprise Monet-Themed Gift Bag
One lucky visitor to the DAM on November 14 will receive a gift bag filled with Monet-themed items from the Shop at the DAM valued at $100.
Claude Monet: The Truth of Nature is on view at the DAM through February 2, 2020.
Photo at top: Claude Monet in his studio, 1920. Private collection/Roger-Viollet, Paris/Bridgeman Images