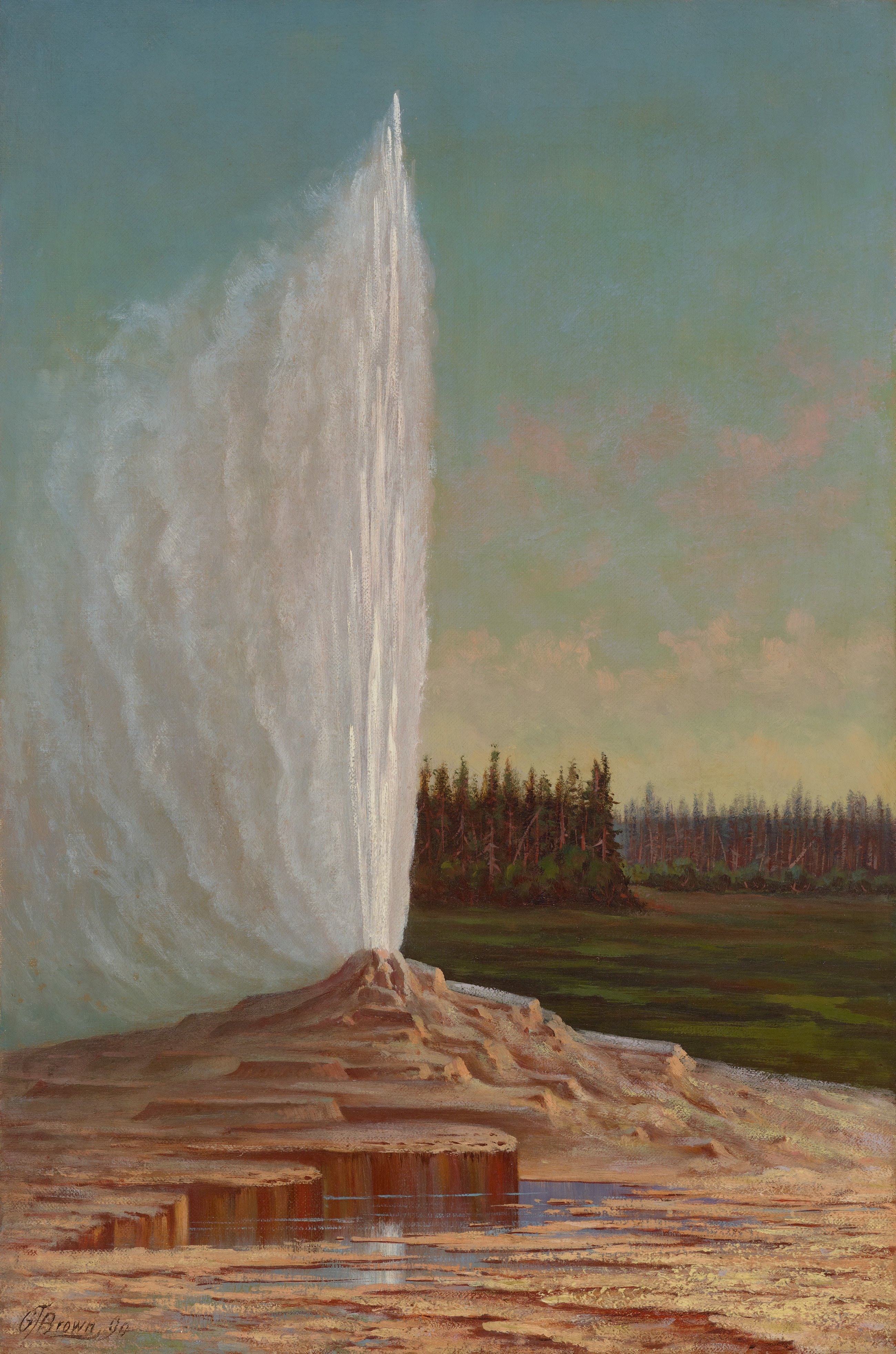 Brown was born in 1841 near Harrisburg, Pennsylvania to free parents. In 1858, at age 17, he boarded a Panama steamer to California and settled in Sacramento. There he worked in restaurants and hotels in service positions while sketching and painting on the side. In 1860, Brown moved to San Francisco and started drawing for lithographer Charles Conrad Kuchel. After Kuchel died in 1864, Brown took over the business, which he operated for the next 18 years. He produced a range of black-and-white and color lithographs including city views, receipts, maps, portraits, and state and county bonds, among others. For further reading on Brown's lithography work, check out historian Dr. Robert Chandler's San Francisco Lithographer: African American Artist Grafton Tyler Brown (University of Oklahoma Press, 2014).
See an image of Brown painting.
In 1882, Brown sold his lithography business, moved to the Northwest, and undertook a career in oil painting. Between 1882 and 1891, he established studios in Victoria, British Columbia, Tacoma, Washington, Portland, Oregon, and Helena. He first visited Yellowstone in 1886 and, after settling in Helena in 1889, he painted renditions of the National Park for tourists traveling along the Northern Pacific Railway. Castle Geyser, Yellowstone features a prominent geological feature named because its tall cone structure. Castle Geyser erupts about every 14 hours. Water from the eruption reaches up to 75 feet and lasts about 20 minutes, according to the National Park Service. Using a low horizon line of darkened forest, Brown emphasizes the height and brilliance of the erupting geyser. The billowing white spray complements the layers of pink and orange sediment in the foreground. Because the base of Castle Geyser is actually quite white, these warm colors, also reflected on the clouds in the background, suggest that we are witnessing a sunset eruption. The painting combines Brown's observations of the geyser as well as his artistic license in choosing beautiful complementary colors.
In 1892, Brown again shifted careers and moved to St. Paul, Minnesota, where he worked as a draftsman for the Army Corps of Engineers and then for the city until his retirement in 1916. He died shortly thereafter in 1918. His death certificate listed him as white.
Like his parents and siblings, Brown was listed as Black in the 1850 and 1860 censuses. His biographer Robert Chandler states that in Sacramento, where Brown landed in 1858, he was also listed as Black. However, after his move to San Francisco in 1861, this racial identifier disappeared. As Caoimhe Morgan-Feir writes for Canadian Art, the fact that his race was not identified in publicity for an exhibition of his landscape paintings in Victoria, BC, probably underscores that he passed there as white. If Brown had been perceived as Black, it would have certainly made the papers. This omission matters, for it helps reveal how Brown negotiated racial prejudice by passing as white within the notoriously exclusionary field of fine art. It also reminds us to pay attention to the omissions in our own historical collections, in which works by Black artists and other artists of color are all too frequently missing. The Civil Rights era of the 1960s inspired a renewed look at the work of Black artists including Grafton Tyler Brown. Since then, scholars, curators, and collectors have worked to ensure that his work and life is included in the larger history of American art.