As a curator of contemporary art, I believe that the arts empower social justice movements by imagining language, images, and actions that bolster and lead political causes. Recently the DAM hosted Frida Kahlo, Diego Rivera, and Mexican Modernism from the Jacque and Natasha Gelman Collection. Art that told the history of the indigenous people of Mexico strongly figured in the show because it gave visual identity to the people of modern Mexico. Within the Black community in America, at nearly the same time as Kahlo and Rivera were working, the Harlem Renaissance gave prominence to Black identity and political empowerment. Senga Nengudi was part of the so-called second renaissance in Black art that began in the 1960s. Her work is on view in Senga Nengudi: Topologies at the Denver Art Museum until April 11, 2021. Acknowledging the privilege of whiteness, this blog combines my scholarly and personal perspectives.
Amiri Baraka
As the Civil Rights Movement gained urgency in the 1960s, artists expanded their efforts, insisting on Black equality and liberty. In New York, Everett LeRoi Jones (who changed his name to Amiri Baraka in 1968) wrote Black Art, a profound poem in response to the assassination of Malcolm X in 1965, which is credited as the birth of the Black Arts Movement. He ended the poem with these lines:
We want a black poem. And a
Black World.
Let the world be a Black Poem
And Let All Black People Speak This Poem
Silently
or LOUD
In this poem, Baraka outlined a call for profound social change. In his text, the Black world embodies the magic and imagination of a poem; let Black voices speak to the world; Black utterances may be silent or loud as is necessary. He called for a concrete artistic movement that addressed racism in America, specifically injustices against Black people. Baraka founded the Black Arts Repertory Theater in Harlem and developed the Black Arts movement more broadly in the 1960s and 1970s, which supported Black Nationalism by focusing on literature, drama, music, and visual art. His co-founder, scholar Larry Neal, wrote in 1968, "Art is the aesthetic and spiritual sister of the Black Power concept. As such, it envisions an art that speaks directly to the needs and aspirations of Black America." In the 1960s there were few platforms or venues for BIPOC artists to publish, perform, or exhibit their work. Black-owned theater, printing presses, and galleries began to emerge around this time.
Elizabeth Catlett
In 1968, Elizabeth Catlett, a Black artist who lived in Mexico for 20 years, created a landmark sculpture of richly brown mahogany depicting a clenched fist. Titled Black Unity, it includes two masklike faces on the reverse of the hand.
For this work, Catlett drew inspiration from the 1968 Mexico City Olympics award ceremony when American athletes Tommie Smith and John Carlos, each raised a black-gloved fist, the symbol of Black Power, as the Star-Spangled Banner played. During an authority struggle between the American team and the Olympic Committee after the event, the athletes were expelled from the games for taking a political position at an apolitical, international forum. Her sculpture Black Unity embodied the might of the Black Power Movement and symbolized defiance and aggression for those unsympathetic to the cause of Black Civil Rights.
Samella Lewis wrote about Catlett in the 1978 book Art: African-American, which was cited by Zoe Whitney in catalogue for Soul of a Nation:
Catlett was aware that her work could be interpreted as an act of defiance or potential aggression by those unsympathetic to the cause of Black Civil Rights. As Catlett explained, 'It might not win prizes and it might not get into museums, but we ought to stop thinking that way, just like we stopped thinking that we had to have straight hair. We ought to stop thinking we have to do the art of other people.'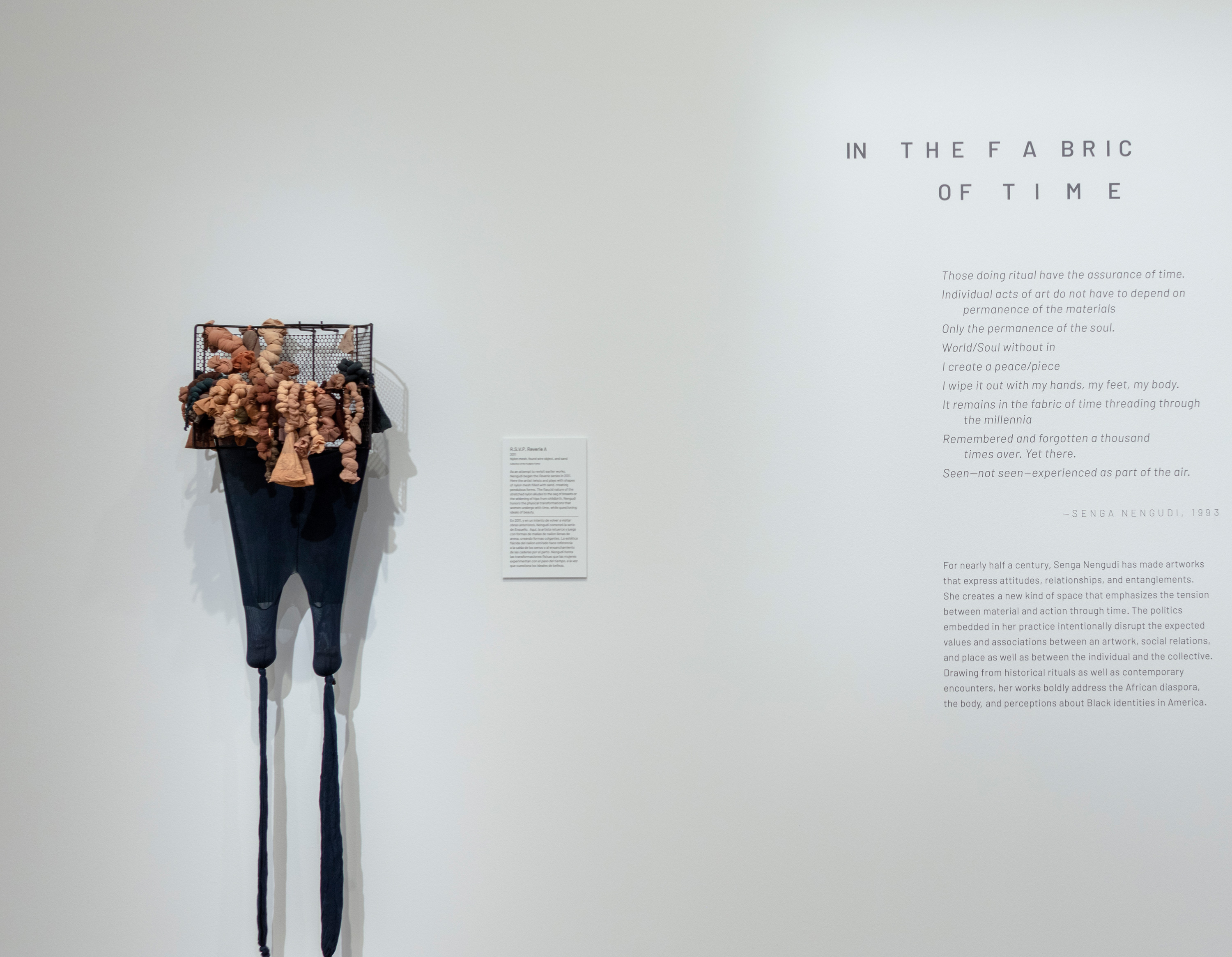 Senga Nengudi
As a young woman in Los Angeles and witness to the momentum of the Black Power Movement, Senga Nengudi completed her graduate studies in visual arts with an interest in contemporary dance at California State College, Los Angeles. Nengudi determined that her work with evoke Black experience by suggesting but not representing the body, an approach much different from Catlett. Using unconventional materials and abstraction, Nengudi set her own aesthetic standards. In 1971, she moved to New York at the recommendation of her mentors. Near the end of her time in New York, she collaborated directly on a project associated with Baraka's Black Art Repertory Theater. In 1974, she conceived the set design for Dianne McIntyre's dance performance of Dead Center at the New Lafayette Theater. Shortly after completing her work with McIntyre, she returned to L.A. Being in L.A., her development as a politically engaged artist aligned with the dialogue surrounding Black rights and matured during her time in New York. She later wrote:
In Black culture naming has great significance. We have been 'called out for our names' so much that controlling that aspect of our lives with a B'rer Rabbit sensibility is important. Each name has personal significance. But more importantly I wanted to explore the fact that many of us fall into the trap of what an artist's work 'should' look like related to their ethnicity.
Nengudi had the fortitude to make ephemeral works—sculpture, performance, word works, and photography—and more recently reprise them as her Reveries series, about Black experiences in America. Her sculptural forms encapsulate life phases of women: expanding to meet another, giving birth, molding to the needs of others, and aging. Moreover, the works embody the legacies of historic trauma: enduring the violence of rape by white men, grieving when forced to forsake their own babies to suckle white infants and stoically shouldering the burden to service a culture of dominance, sacrificing their own personal wellbeing and health.
While the Black Arts and Black Power movements benefitted from the visual presence that the studio arts lent them, they were at their core literary and drama based. Nengudi sensed this connection and found that her work was larger than her practice as a visual artist. She found sustenance in collaboration with other studio artists, specifically the members of Studio Z, and authority in the written word. Nengudi began a project What's in a name taking on the pseudonyms of Propecia Leigh (photographer), Harriet Chin (painter), and Lily Bea Moor (writer). Her written word works are particularly powerful. Below are videos of her reading two of her writings, Weeds and Honorees.