Artists have always explored topics relevant to their time. At the Denver Art Museum, we are committed to being a place for freedom of artistic expression, and we believe in the capacity of art to start conversation and create empathy and connection. The following text and slideshow features only a selection of some of the artwork currently on view that speaks to current issues.
On View in the Martin Building
The Carla Fernández Casa de Moda exhibition highlights the Mexico City-based designer's fashions and efforts to be an agent of social and ethical change and innovation. Fernández collaborates with local artisans in Mexico to create sustainable clothes inspired by Mexico's rich textiles and culture. The exhibition also showcases designs to be worn at protests in support of women's and immigrants' rights, bodily autonomy, and the anti-nuclear movement.
In the Indigenous Arts of North America galleries, you can see numerous works that address topics that have recently appeared in the news. For example, The Scream (2017) by Kent Monkman depicts Royal Canadian Mounted Police, priests, and nuns ripping Indigenous children away from their parents to send them to residential schools. The effects of boarding schools are still felt today through physical and emotional trauma, language loss, culture change, and disruptions in the transmission of cultural knowledge. Such stories are often missing from popular narratives of governmental policies towards Indigenous peoples in both Canada and the US.
Another example is God Complex (2015) by Nicholas Galanin, which features police riot gear, made from porcelain, outstretched in a crucified position. The work is emblematic of the American belief and faith in the police state and references how colonizers used religion to justify its violence, especially toward Indigenous communities.
In A Little Medicine and Magic (2018), Julie Buffalohead asks how Western and/or Indigenous feminist concepts can influence Ponca cultural protocols (expected behaviors) and contemporary society. The four-pointed star on two skunks represents a mark that Ponca men could tattoo on a woman in their family if they earned the right, such as through an act of bravery. While Ponca society considered this an honor, Buffalohead wonders about the agency of the women to make the choice themselves.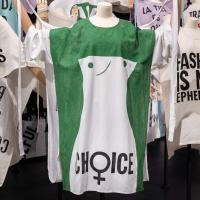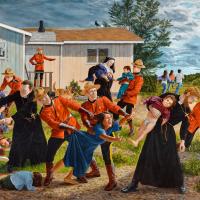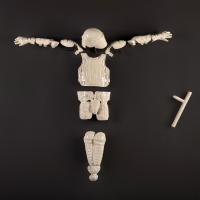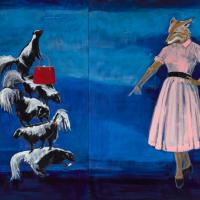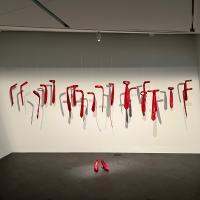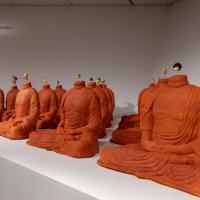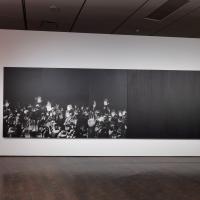 On View in the Hamilton Building
One Month Late (1992) by Rachel Lachowicz incorporates familiar materials such as lipstick, wax, and clothing to create a dynamic sculpture that addresses topics of gender identity, abortion, the body, and individual agency. Neckties—historically associated with men—surround a pair of high heels, suggesting the presence of a woman. The bent wire above the shoes alludes to a history of self-induced abortions and physical trauma. Though the wire and shoes are at the center of the composition, the pronounced male presence looms ominously.
The exhibition Disruption: Works from the Vicki and Kent Logan Collection features an array of socially conscious artworks. One example is Michael Joo's Headless (mfg portrait) (2000), whose foam sculptures resemble stone Buddha figures desecrated and looted by colonizers and invaders who stripped them of their heads, as they were easier to remove than entire sculptures. In place of the missing heads, Joo added disproportionate faces appropriated from Western films, cartoons, and childhood toys. By combining looted objects with elements of contemporary pop culture, Joo addresses notions of greed and consumerism and provides a visual reminder of war and colonization.
Also on view in Disruption is Hands (Diptych) (1997) by Glenn Ligon. The painting is a part of his series "Hands," which is dedicated to the Million Man March in Washington, DC, on October 16, 1995. Ligon explains that this artwork "was derived from a newspaper photograph of the Million Man March," and "the sea of hands... is a moment in the march where there is a pledge of the Black men who had gathered there to the Black family and to responsibility."
In addition, Modern Women Modern Vision: Works from the Bank of America Collection (on view through August 28) presents works by women photographers that explore a variety of timely subjects such as gender and class. Also, check out the newly opened Who tells a tale adds a tale: Latin America and contemporary art which features artwork by 19 emerging artists who question what it means to inhabit identities such as Latin American, Latinx, Indigenous or Native, or queer, within the context of present-day phenomena like global hegemony, pandemics, climate change, and assaults on human and civil rights.