Modern Women/Modern Vision: Works from the Bank of America Collection, on view at the DAM through August 28, spotlights women photographers from approximately the past 100 years, highlighting photographs by over 50 artists that represent a range of approaches to the medium. The final section of the exhibition explores work from the 1980s onward. The immediacy of photography enables the possibility of capturing a spontaneous, fleeting moment but, several photographers in this section of the show push against that inherent characteristic of the medium and instead carefully construct scenes for the camera.
Many of us have spent much more time than usual in our homes these past two years and possibly understand the role it plays in our lives better than ever. A home is both a physical and emotional space—it serves our daily needs, houses our possessions, hosts our loved ones, and, no doubt, is witness to many emotions. Carrie Mae Weems and Laura Letinsky are two contemporary artists included in Modern Women/Modern Vision that use this space as a stage to explore ideas, emotions, and aspects of the human experience. More specifically, they are constructing pictures around the kitchen table. Within a home, the kitchen/kitchen table is a powerful and necessary space, a site of nourishment, community, conversation, and often debate. It makes sense these artists see it as a fruitful foundation for their pictures.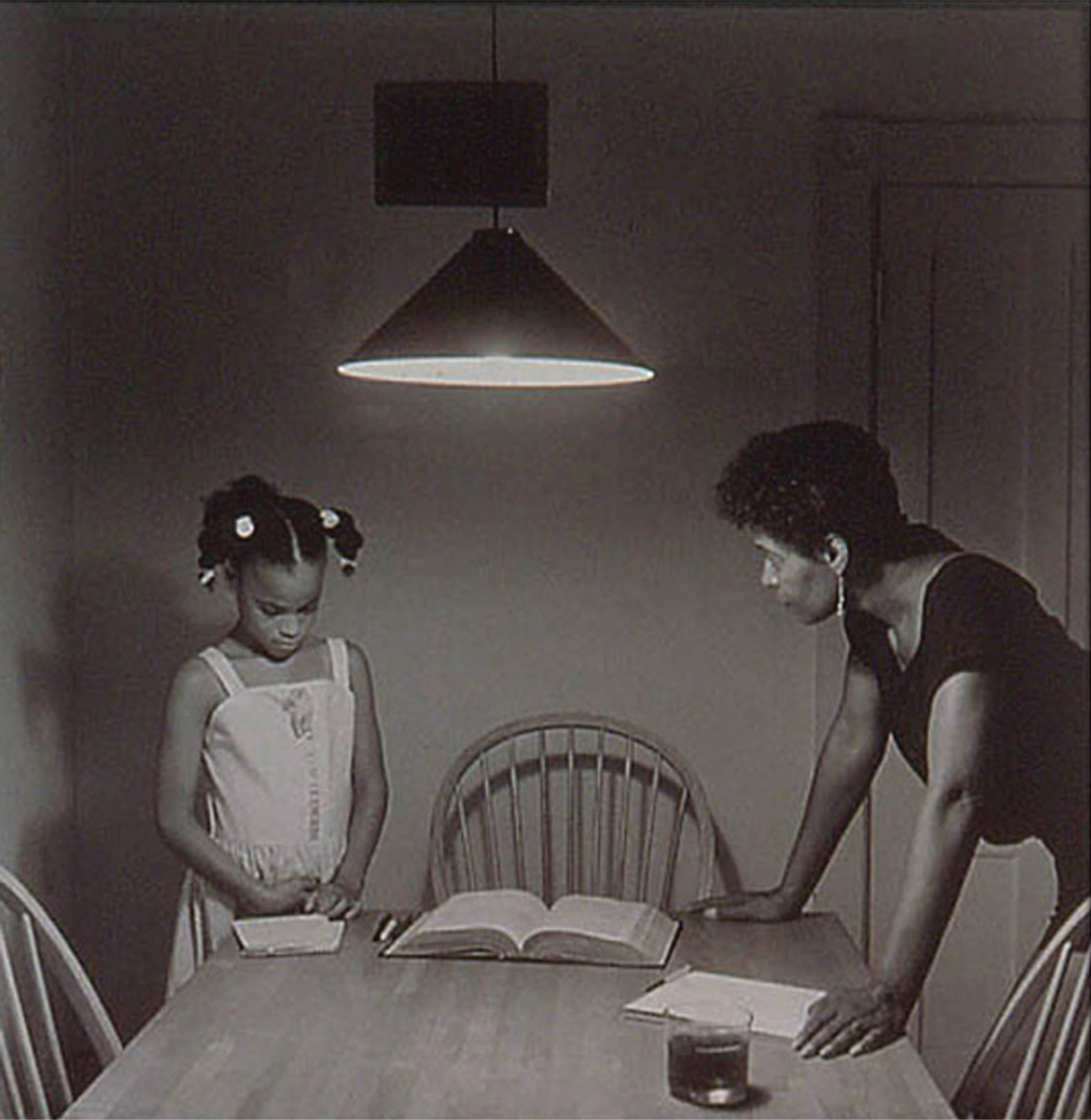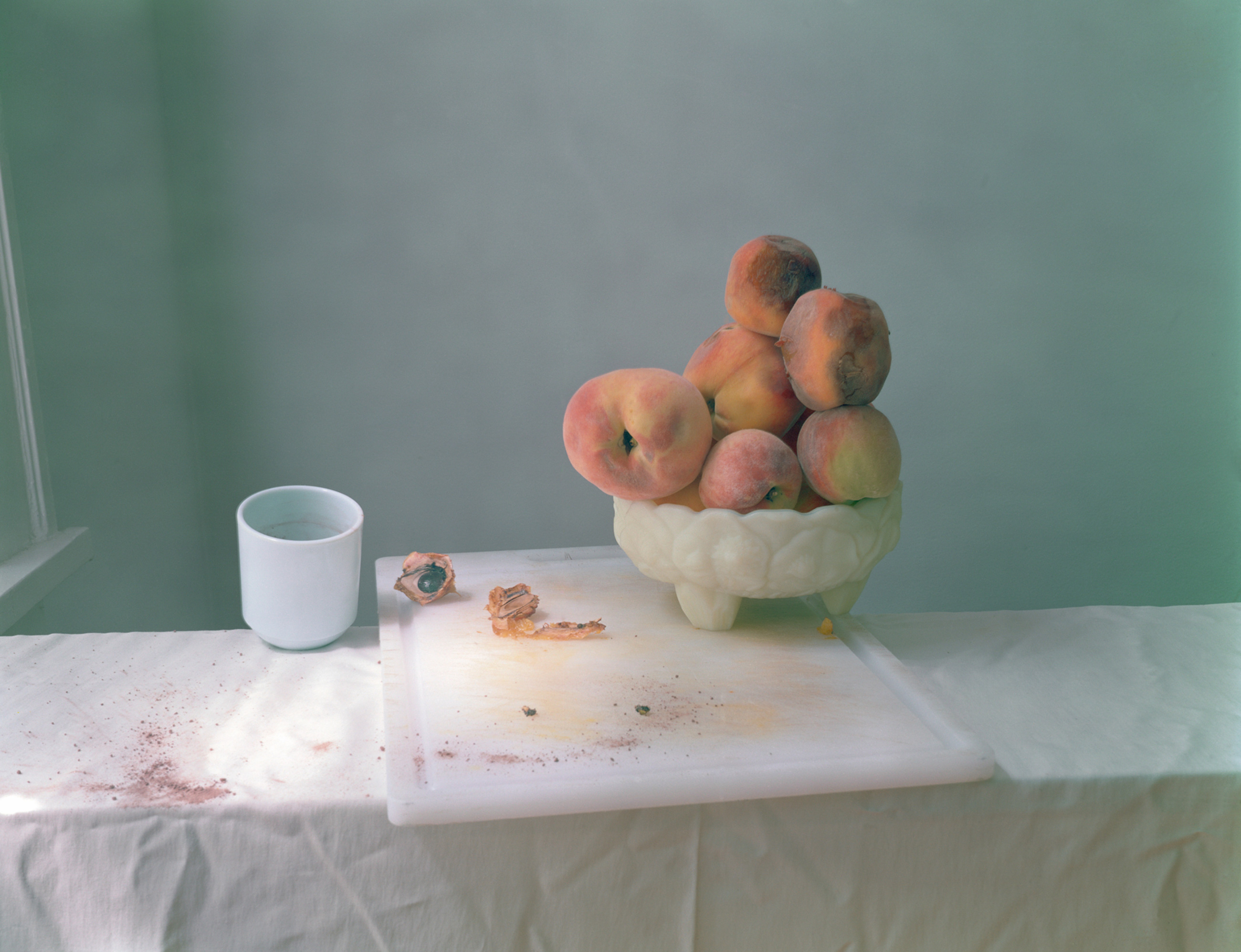 Carrie Mae Weems
Carrie Mae Weems created her iconic Kitchen Table Series in her home in 1990. Each photograph is anchored by the kitchen table at the center and the lamp hanging above, but from picture to picture the people and surrounding props change. Carrie Mae Weems herself is in every photograph, appearing either alone or with friends and acquaintances who agreed to participate in the project. These are not portraits, but scenes constructed and performed for the camera. The series begins with pictures of a woman and a man showing the evolution of a relationship, followed by her in the company of female friends or family, then with her daughter, and ending with a group of pictures of the woman alone. Weems, the constant character throughout the series, plays the role of woman, in a more universal sense, using her body in the space of these photographs to communicate the complexities of a woman's identity, her relationships with others, and her evolution as an individual.
Weems explains she hoped the Kitchen Table Series would not only "be a voice for African-American women but would be a voice, more generally, for women." There is a narrative within each picture and one that builds across the series. She has created an intimate space that a "cast of characters" moves through. In each photograph it almost feels as if Weems pressed pause on a life moment rich with meaning and consequence. Through the gestures, postures, and facial expressions of the people pictured, a range of emotions and relationship dynamics are visually communicated.
This picture presents a mother and daughter amidst what appears to be a serious conversation, showing motherhood, and all its joys and challenges, as a facet of this woman's identity. As Weems explains:
I'm just interested, ultimately, in the emotional terrain—the beautiful surface and the emotional terrain—and that I get close to the emotion that I think the work is about and allow the viewer to experience at least some element of that along with me.
Laura Letinsky
Laura Letinsky began making pictures of people, herself included, but soon realized the spaces we live and objects we surround ourselves with can say almost as much about us. Much like Weems, Letinsky is interested in exploring the play of fact and fiction and the intimate space of home in her pictures from the series Hardly More Than Ever. She was inspired by the rich history of still life painting and struck by how the objects in still lives are ordinary and may not seem "picture-worthy," but they often depict elements essential to human existence, such as food. Letinsky took a different approach to still life in this series by focusing on leftovers and cast-off bits. She got the idea after seeing the remnants of an elaborate evening meal cooked and enjoyed in her home bathed in the sunlight of the following morning. A still life like this tells much more of a story about what led up to the scene—no people are in the picture but human presence is palpable. Letinsky made Untitled #49 in her home in 2002. It features a bowl of peaches, bruised and starting to rot, sitting on top of a messy cutting board and stained tablecloth. Much like Weems' Kitchen Table Series, this picture is constructed for the camera but feels natural at a glance, as if the cook preparing a peach pie stepped away briefly to get another cup of coffee.
Lentinsky also likes to play with perception and create a sense of tension in her photographs. There is a precarious balance throughout this picture—the peaches are delicately placed on top of each other in a small bowl that can barely contain them, the bowl sits just on the edge of a cutting board that is only partially supported by the kitchen table beneath, and a coffee cup is perched at the edge of the table on the verge of toppling to the ground. This visual tension and play of perception provoke a second, closer look but Letinsky also explains it animates what could otherwise be a static picture and evokes "how home is a very tenuous place that takes a lot of effort to hold together and can fall apart quickly." She wants her pictures to create a sense of discomfort, to be, as she says, "familiar" but "uncanny," "pretty" but "decrepit," and to challenge our expectations of subject matter and perception in a photograph.
These two artists are perceptively using the intimate space of home—the space people (regardless of gender) are most familiar—to comment on the human experience and the power of vulnerability, because they see the ability of this space to communicate deeper meaning about life. Whether through depictions of people or objects, pictures in both series are about longing, becoming, and changing with time. They question what is valued, what is overlooked, and demonstrate how pictures help us to "see." The scenes before the camera in these photographs are constructed by the artists but address issues and feelings very real to life.