Angelica Kauffman was ahead of her time—way ahead. Born in 1741, she built a hugely successful career as a painter, a feat undreamed of by almost every woman artist for another century and a half.
Kauffman was fortunate to have been born the daughter of a professional painter, one of the very few routes by which a woman might attempt a career as an artist (Learn more in this blog with quotes from women artists who were included in the Her Paris exhibition). Her father not only nurtured her prodigious talent, he brought her with him on his travels through Europe when she was in her teens. She was 18 when they arrived in Italy, and over the next few years she studied at the prestigious art academies in Florence and Rome.
Before long she was invited to paint portraits of the leading intellectuals of the day, including the antiquarian J. J. Winckelmann and Dr. John Morgan, founder of the medical school of the University of Pennsylvania. By the time she arrived in London, at age 25, she was an accomplished professional. And it was there, two years later, that she became one of only two women founding members of the Royal Academy of Arts, Britain's first art academy.
Kauffman was in her mid-to-late 30s when she painted this picture in the Berger Collection. Papirius Praetextatus Entreated by His Mother depicts a mother and her son in ancient Roman dress in an interior with classical architectural details such as a massive stone column and a sculpture in the form of a sphinx. It's a type of picture for which Kauffman had become famous—a narrative picture telling a story from ancient Roman literature and carrying a morally uplifting message.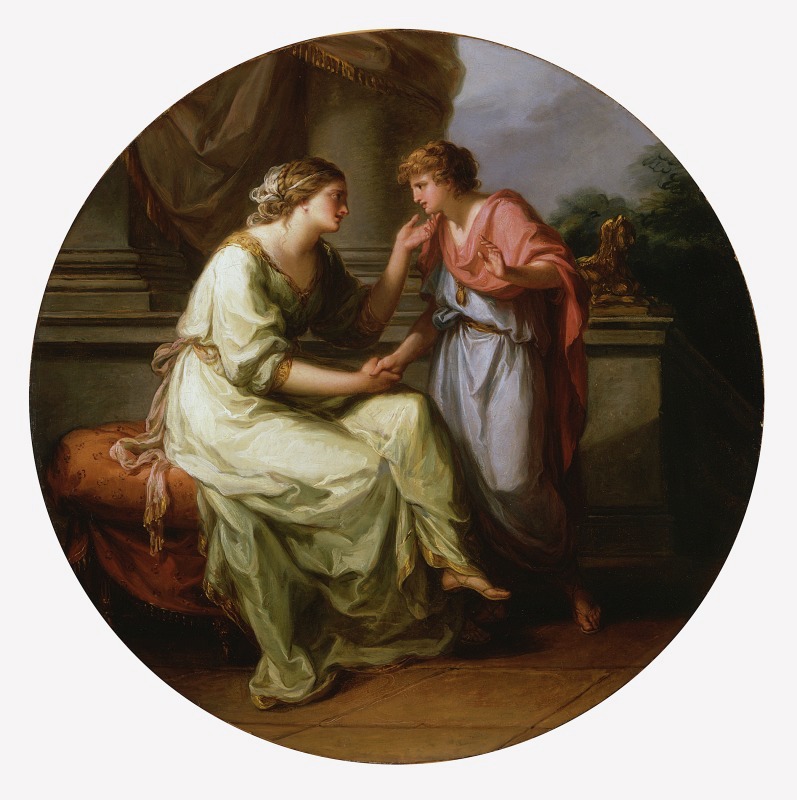 Here the picture is an allegory on the virtues of loyalty to one's government. According to the story, the boy has been admitted to the Roman Senate, from which women were barred, and his mother is eager to hear what he learned of their secret proceedings. She pleads with him and he resists, telling her a lie instead, but thereby winning the favor of the senators. (In ancient Rome it was better to lie to your mother than to the government!)
Educated viewers of Kauffman's day might have known the story, and we can assume the patron who commissioned the painting likely knew its details. But for modern viewers, even with an accompanying text, the picture is a mystery. The interplay of the figures seems to be the subject of the picture, with the actual narrative merely a vehicle for telling the story of a mother's love for her son.
Kauffman focuses our attention on their gestures. The mother leans toward her son, bringing her face close to his while touching his chin and holding his hand in hers. The boy returns his mother's gaze but signals his unwillingness to divulge the secret by his raised hand. For the artist, unmarried and childless in her 30s, this painting might have served as a wish fulfillment for a still-young woman longing to have a child. (When she was 40 she married the much-older Italian painter Antonio Zucchi, but they had no children.)
The pictorial subject of mother and son posed in close emotional dialogue as in this picture evidently held particular meaning for Kauffman because she repeated it in several pictures of the 1770s and 1780s.