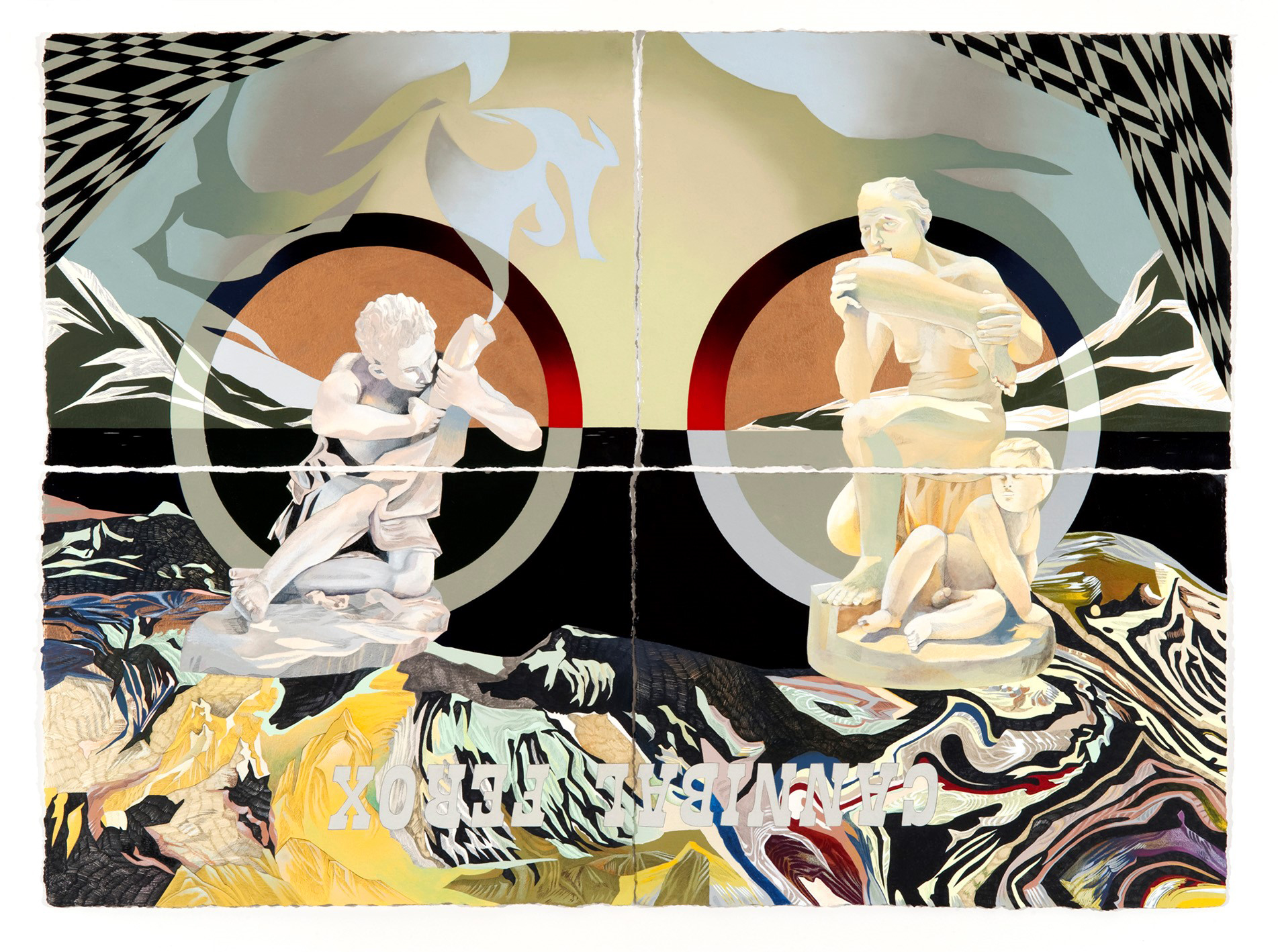 Andrea Carlson
Andrea Carlson (born in 1979) is an Ojibwe visual artist currently living and working in Chicago, Illinois. Through painting and drawing, Carlson's work brings awareness to entangled cultural narratives and institutional authority. She questions ideas and ideals of possession and display through her explorations of fabricated landscapes that collapse time, space and reality, and which draw attention to the museum's ability to project or support narratives of othering, domination, and colonization.
Carlson is part of a growing group of global artists whose practices are leading the charge in validation and recognition of a multiplicity of visual expressions that do not originate in Western art historicities. By powerfully grounding her creative processes in her Anishinaabe heritage, yet divorcing much of her work from didactic imagery, Carlson joins the ranks of other artists who abandon the stereotypical imagery expected from them based on their cultures of origin. Adopting such a strategy, Carlson is able to address matters such as colonialism and cultural cannibalism in a subversive and multi-layered manner.

The painting Cannibal Ferox is a signature work from her VORE series. The term vore emerged in 1990s Internet culture and involves the fantasy of people being swallowed whole. In this way, the consumed stay alive in the stomach of whatever or whoever swallowed them. Carlson's title captures her explorations into how Indigenous cultures are consumed by cultural institutions like museums. She ties this exploration to the cannibal film genre of the 1980s. These films utilized cruel forms of sexuality mixed with horrific acts of cannibalism to appeal to viewers' darkest fantasies and fears. In this series, Carlson delves into the grotesque and brutal nature of these exploitive films—even incorporating their imagery and titles into the work—and highlights how consumers gain strength through the dominance of groups deemed "other." Carlson frequently explores ideas of cultural cannibalism in her work. This line of thought has proven to be a deep and rich foundational basis for many of her artistic constructions.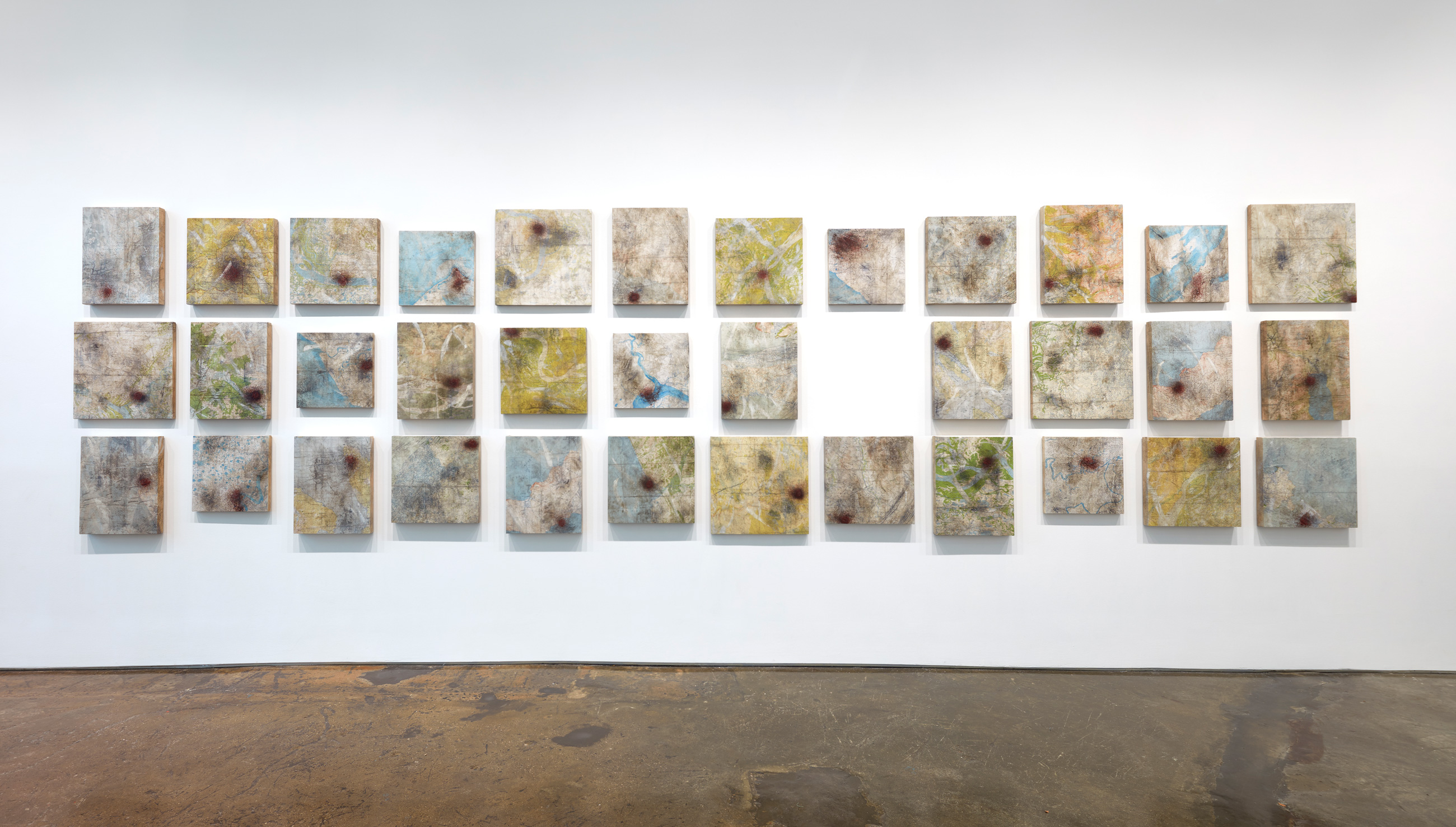 Sonya Kelliher-Combs
Sonya Kelliher-Combs is a leading Indigenous artist in the contemporary art world whose process mixes natural and synthetic materials to create beautiful, poignant works. Kelliher-Combs was raised in the Northwest Alaska community of Sitŋasuaq (Nome). Her bachelor of fine arts degree is from the University of Alaska Fairbanks and her master of fine arts is from Arizona State University. Through her mixed media painting and sculpture, Kelliher-Combs offers a chronicle of the ongoing struggle for self-definition and identity in the Alaskan context. Her combination of shared iconography with intensely personal imagery demonstrates the generative power that each vocabulary has over the other. Similarly, her use of synthetic, organic, traditional, and modern materials moves beyond oppositions between Western/Native culture, self/other, and man/nature, to examine their interrelationships and interdependence while also questioning accepted notions of beauty. Kelliher-Combs' process dialogues the relationship of her work to skin, the surface by which an individual is mediated in culture.
Her series Credible is a major step for the artist. In this work, Kelliher-Combs uses maps to highlight 35 Indigenous communities in Alaska that experienced "credible" instances of abuse by Catholic clergy and laypeople as reported by Jesuits West and the Catholic Diocese of Fairbanks, as well as Kyle Hopkins from the Anchorage Daily News. The maps are encased in sheets of acrylic that contain layers of pigments and/or human hair. Kelliher-Combs then stitched in densities that relate to the number of abuses in these particular communities.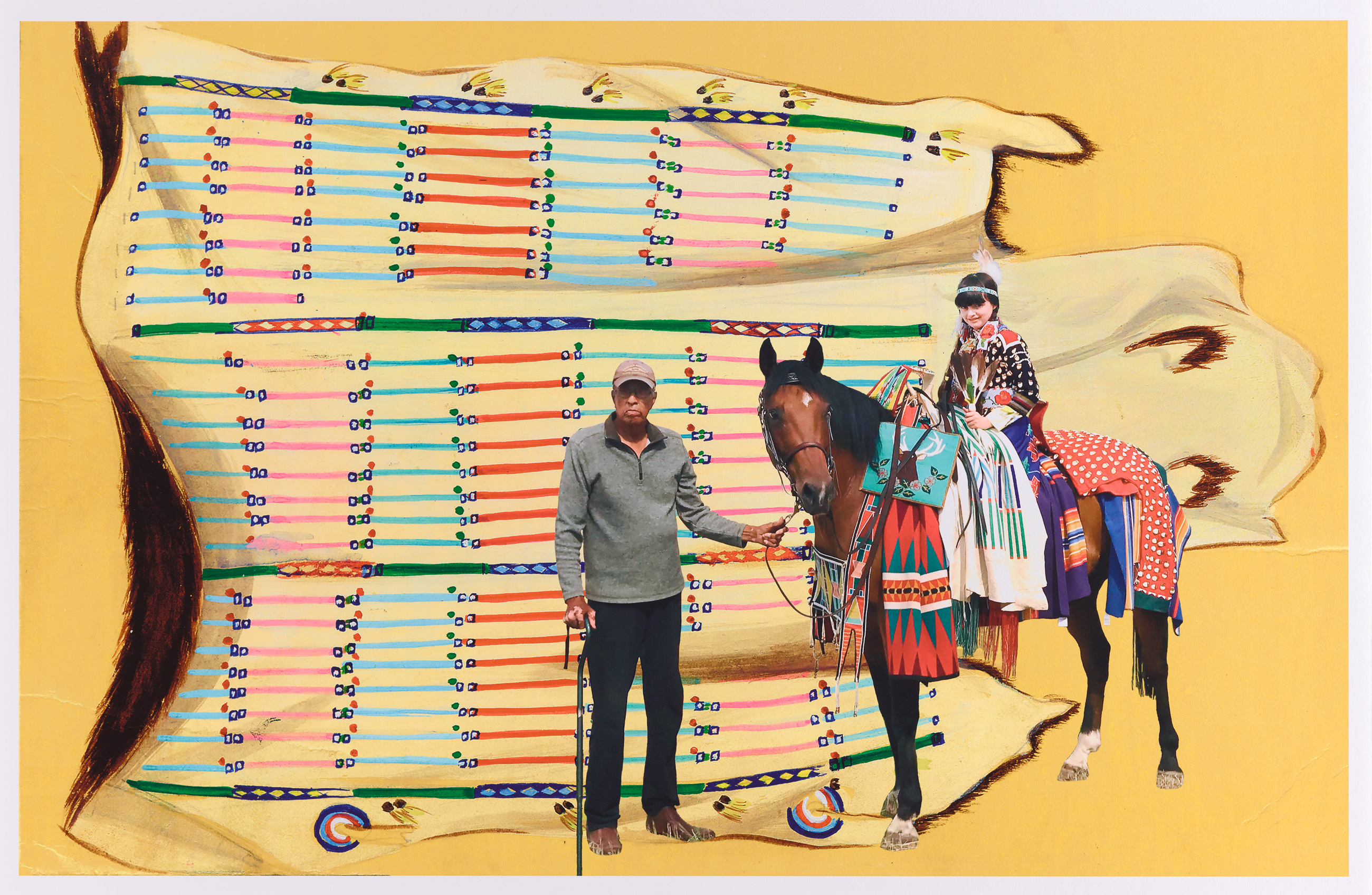 Wendy Red Star
Raised on the Apsáalooke (Crow) reservation in Montana, Wendy Red Star's work is informed both by her cultural heritage and her engagement with many forms of creative expression, including photography, sculpture, video, fiber arts, and performance. An avid researcher of archives and historical narratives, Red Star seeks to incorporate and recast her research, offering new and unexpected perspectives in work that is at once inquisitive, witty, and unsettling. Red Star holds a BFA from Montana State University, Bozeman, and an MFA in sculpture from University of California, Los Angeles. She lives and works in Portland, OR.
When Wendy Red Star was an artist in residence at the Denver Art Museum in 2016 and 2017, the Native arts department provided her with high-resolution scans of some of the catalog cards that document the Crow collection. On the backs of many of the Native arts catalog cards, there are beautiful drawings and paintings that were done by artists during the Works Progress Administration era. Using these catalog cards as reference during the Crow Nation's annual Crow Fair in Montana, Red Star took photographs of people and horses wearing similar material during the parades. She then paired images with the catalog cards, and, as stated in the press release on the series, "isolate[ed] intimate moments in the photographs and remov[ed] the backgrounds. In doing so, the subjects, the detail of their outfits, their facial expressions, and their finely adorned horses came into sharper focus, highlighting the richness of Crow culture and giving context to the catalog cards themselves." This series of 15 prints is in line with some of Red Star's other series where she seeks to reconnect historical objects with the present and Indigenous knowledge with objects and images removed from their original cultural context. It also provides excellent commentary and context to our existing Crow collection, and each print can be matched to an object made by a Crow artist that is in the DAM's collection.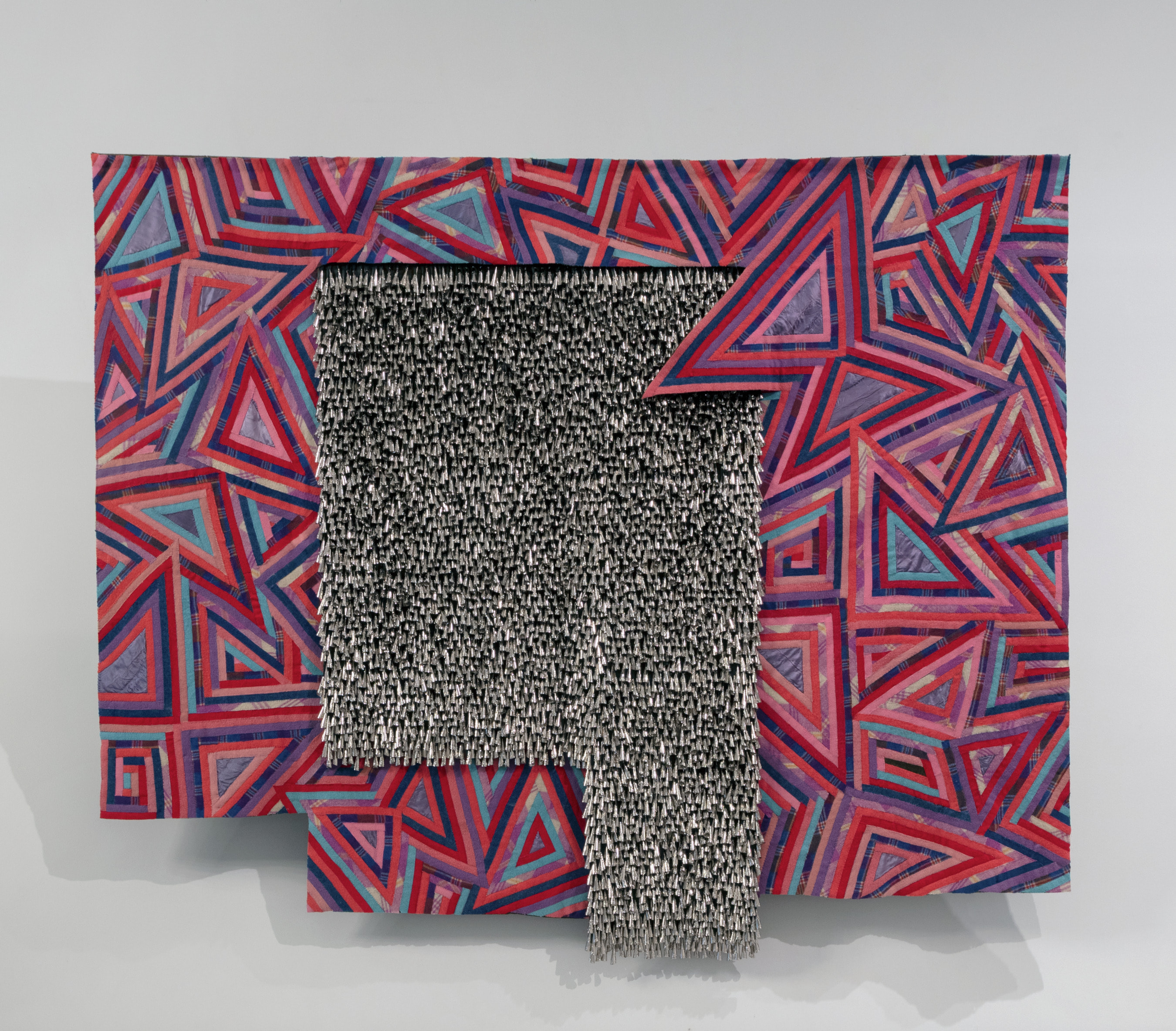 Marie Watt
Marie Watt is an American artist and citizen of the Seneca Nation with German-Scot ancestry based in Portland, OR. Her interdisciplinary work draws from history, biography, Iroquois proto-feminism, and Indigenous teachings; in it, she explores the intersection of history, community, and storytelling. Through collaborative actions she instigates multigenerational and cross-disciplinary conversations that might create a lens and conversation for understanding connectedness to place, one another, and the universe. Her primary materials are often everyday objects that can carry extraordinary histories of use, such as blankets, which in her tribe are given to those who bear witness to important life events. In working with blankets, her process is both solitary and collaborative; her small works are often personal.
Watt was recently named a 2021 American Academy of Arts and Letters award winners.
This sculptural hung textile titled Butterfly was started during Watt's residency at the Denver Art Museum during the summer of 2013. She was inspired by two young female powwow dancers that described how they felt when dancing. Large abstract butterfly motifs refer to one of the girls that described feeling like a butterfly floating while fancy shawl dancing. A large panel in the middle is composed of the types of tin jingles that would be used to make a jingle dress, they type of regalia worn by the other girl. At the DAM's 2013 Friendship Powwow Watt invited visitors to participate in a sewing circle to work on this piece. The cloth portion is made of reclaimed blankets, a recurring motif in her work. Butterfly was acquired by the DAM in 2015 and is included in the 2021 exhibition Each/Other: Marie Watt and Cannupa Hanska Luger.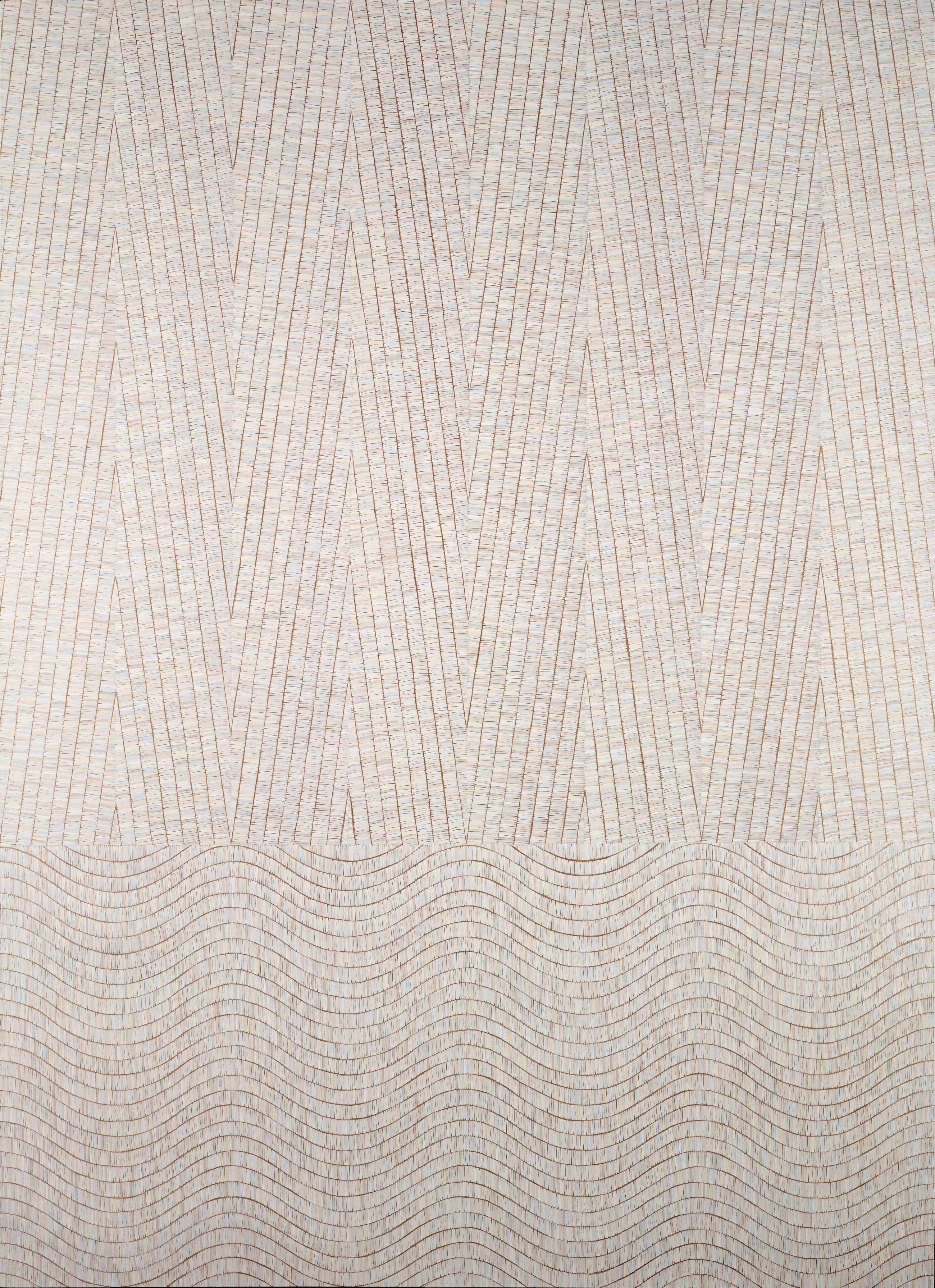 Dyani White Hawk
Dyani White Hawk (Sičáŋǧu Lakota) is a visual artist and independent curator based in Minneapolis, Minnesota. White Hawk earned a MFA from the University of Wisconsin-Madison (2011) and a BFA from the Institute of American Indian Arts in Santa Fe, New Mexico (2008). She was recently named a 2021 American Academy of Arts and Letters award winners.
In addition to the DAM, her work is in the collections of the Museum of Modern Art, Walker Art Center, Crystal Bridges Museum of American Art, Pennsylvania Academy of the Fine Arts Museum, Minneapolis Institute of Art, Smithsonian National Museum of the American Indian, Tweed Museum of Art, IAIA Museum of Contemporary Native Arts, Akta Lakota Museum among other public and private collections.
This work by Dyani White Hawk is part of a series that references the often anonymous arts of Indigenous women who work in porcupine quillwork and glass beads. This specific work more specifically relates to the work that adorns quilled men's shirts made by women. The lines, peaks, and valleys represent the space in between design elements. The negative space. The background. The quiet space. It is about the strength of women artists and their legacies that inspire the current generation. But it is also a reference to the work of Agnes Martin and how "She also made efforts to look deeply, to pare information down to the most poignant, graceful, and striking statement." This is the first work by White Hawk to join the DAM's collection.