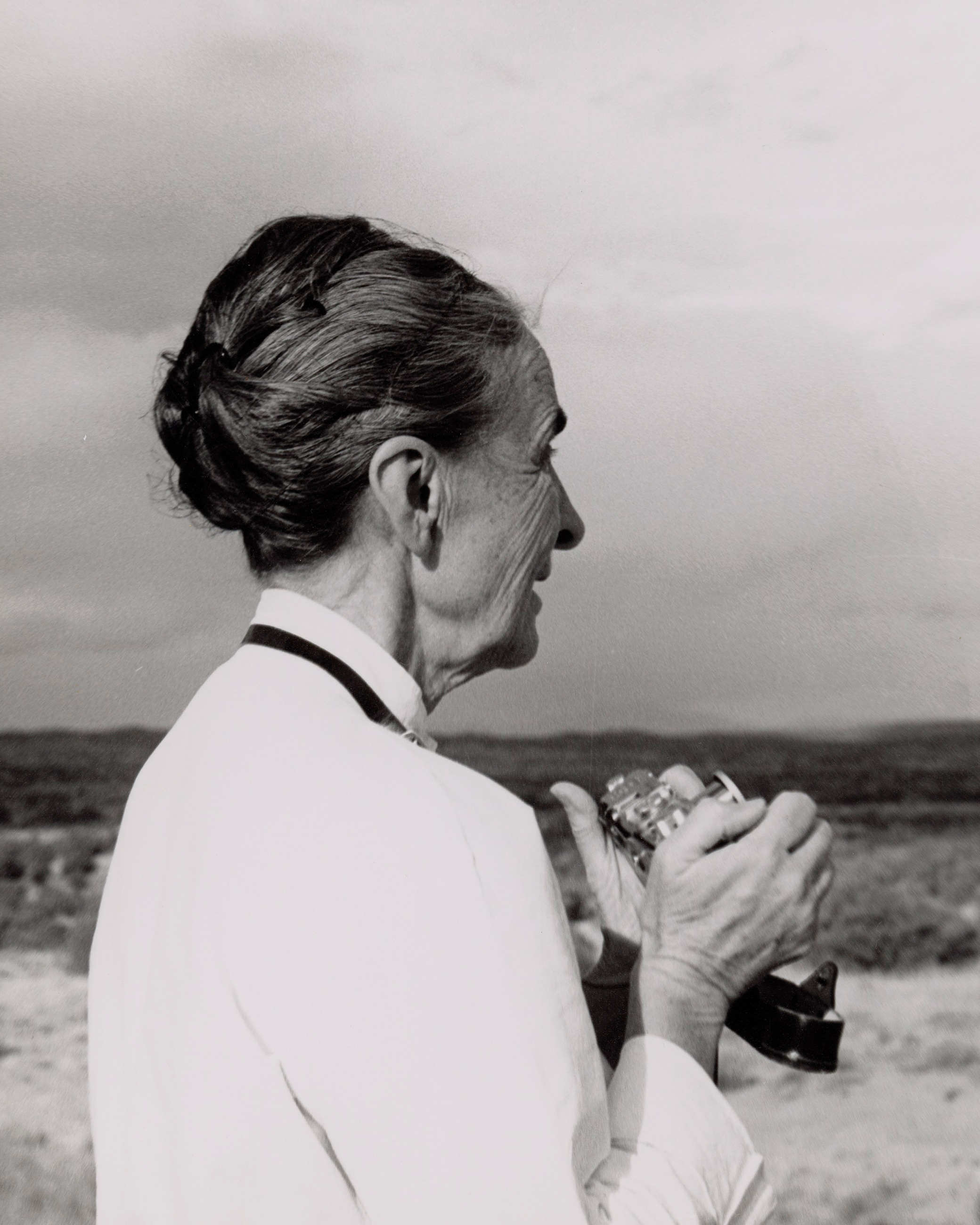 In honor of Georgia O'Keeffe, Photographer, we have put together a brief list of quotes from the pathbreaking artist. The exhibition is on view through November 6, 2022. It is included with general admission, which is free for members and everyone 18 and younger.
1. "I've been absolutely terrified every moment of my life and I've never let it keep me from a single thing that I wanted to do."
2. "Two walls of my room in the Abiquiú house are glass and from one window I see the road toward Espanola, Santa Fe, and the world. The road fascinates me with its ups and downs and finally its wide sweep as it speeds toward the wall of my hilltop to go past me. I had made two or three snaps of it with a camera. For one of them I turned the camera at a sharp angle to get all the road. It was accidental that I made the road seem to stand up in the air, but it amused me, and I began drawing and painting it as a new shape. The trees and mesa beside it were unimportant for that painting—it was just the road."
3. "I had to create an equivalent for what I felt about what I was looking at—not copy it."
4. "My painting is what I have to give back to the world for what the world gives to me."
5. "I know now that most people are so closely concerned with themselves that they are not aware of their own individuality. I can see myself, and it has helped me to say what I want to say—in paint."
6. "I'm not a joiner and I'm not a precisionist or anything else."
7. "It never occurs to me that (skulls) have anything to do with death. They are very lively. I have enjoyed them very much in relation to the sky."
8. "I said to myself, 'I have things in my head that are not like what anyone has taught me—shapes and ideas near to me—so natural to my way of being and thinking that it hasn't occurred to me to put them down.' I decided to start anew to strip away what I had been taught."
9. "What I see outside my bedroom window in winter is really wonderful... I like my life."
10. "…in a way—nobody sees a flower—really—it is so small—we haven't time—and to see takes time like to have a friend takes time."
Learn more about Georgia O'Keeffe with these resources at the Georgia O'Keeffe Museum.