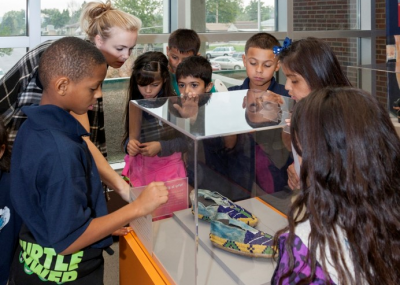 Exhibitions in Your Community
A customizable exhibition of museum objects is installed in your school or community center for about a month. Kids, families, and educators can use the installation to bring programming to life and reinforce organizational values, spark intercultural dialogue and empathy, and build community through shared experience. We honor the creativity of your community and support learning by offering the exhibition plus optional artmaking workshops with artists for kids and families, professional development for staff, and art supplies for extended lessons.
If you work at a Title 1 school or community center in Denver and are interested in hosting an Art Lives Here exhibition in 2022, please fill out the application below.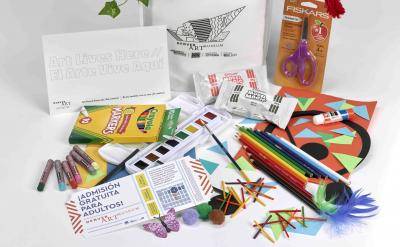 Creativity Kits
Art Lives Here Creativity Kits were developed to continue to provide access to creativity and art objects during the COVID-19 pandemic. Creativity Kits are free and are distributed to schools and community centers serving elementary and middle school children and families in and around Denver. The DAM is committed to providing opportunities for artmaking, intercultural and intergenerational dialogue, and community-building.
If you'd like to apply to receive free Creativity Kits for your students, please fill out the application below.
Art Lives Here / El arte vive aquí is generously funded by Terry and Linda Stevinson, Aegon Transamerica Foundation, U.S. Bank Foundation, Xcel Energy, and the Connie Burwell White & William W. White Foundation, and Institute for Museum and Library Services, with additional support provided by an anonymous donor and the residents who support the Scientific and Cultural Facilities District (SCFD)