Explore Our Collections
Realness
Mark Bradford (American, b. 1961)
Realness, 2016
Mixed media on canvas
108 1/8 x 168 1/2 in.
Denver Art Museum: Purchased with funds from anonymous donors; funds from Vicki and Kent Logan by exchange; Baryn, Daniel and Jonathan Futa; Craig Ponzio; Ralph L. and Florence R. Burgess Trust; DAM Contemporaries; Volunteer Endowment Fund; Suzanne Farver and Clint Van Zee; Andrea and William Hankinson; Amy Harmon; Arlene and Barry Hirschfeld; Lu and Chris Law; Sharon and J. Landis Martin; Tina Patterson and Bill Cottingham; Amanda J. Precourt; Judy and Ken Robins; Annalee and Wagner Schorr; Ellen and Morris Susman; Tina Walls; and Margaret and Glen Wood) , (Temporary Loan, 11/28/2016, Purchased with funds from anonymous donors, Vicki and Kent Logan, Baryn, Daniel and Jonathan Futa, Craig Ponzio, Ralph L. and Florence R. Burgess Trust, DAM Contemporaries, Suzanne Farver and Clint Van Zee, Andrea and William Hankinson, Amy Harmon, Arlene and Barry Hirschfeld, Lu and Chris Law, Sharon and J. Landis Martin, Tina Patterson and Bill Cottingham, Amanda J. Precourt, Judy and Ken Robins, Annalee and Wagner Schorr, Ellen and Morris Susman, Tina Walls, and funds from various donors by exchange, 2017.29A-B
© Mark Bradford. Courtesy the artist and Hauser & Wirth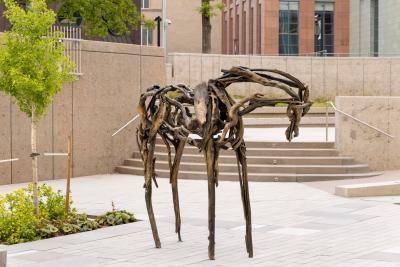 Outdoor Art
Several outdoor artworks can be found across the Denver Art Museum campus. Learn more about where to find them and the history and artistic intent of each piece.
Conservation
The museum's conservation department is made up of conservators with specialties in works of art on paper, photographs, paintings, textiles, archaeological and ethnographic objects, and modern and contemporary art. Our staff cares for the collections in accordance with our expressed mission to preserve works of art for future generations.
Events
The Denver Art Museum hosts a variety of lectures and talks with curators, artists, and leaders in their fields. Due to the pandemic, all lectures and talks are currently hosted online over Zoom.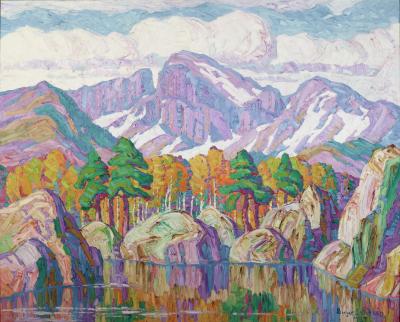 Museum From Home
If you're unable to visit soon, we invite you to explore the Denver Art Museum from home. Browse artwork in our online collection, take virtual tours of exhibitions, download coloring sheets and phone and computer backgrounds, read interviews with artists, and much more.