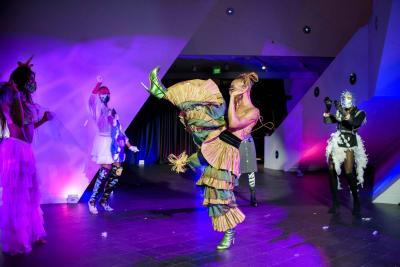 Untitled: Creative Fusions at Home
Untitled: Creative Fusions is a collaboration with local artists and creatives to create an evening full of events, performances, experimentation, and one-of-a-kind experiences. Throughout the night, artists will showcase their work while providing a hands-on and engaging atmosphere.
Due to COVID-19, Untitled: Creative Fusions have moved to an online platform where viewers are able to watch the program from the comfort of their homes.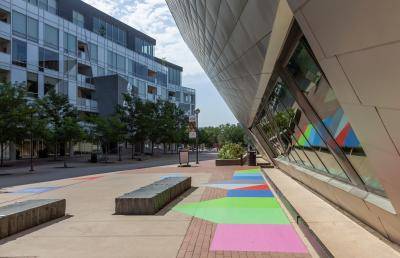 Plaza Installations
This summer, DAM visitors can experience an interactive work of art inside or outside the museum walls!
While the Studio is closed, we are still engaging with local artists through the projects created for the plaza windows. Our latest collaboration with Andrew Huffman, Domino Projection, brings art to passersby and visitors alike. This is a site-specific, ephemeral installation that responds to the existing architecture and contemporary times to produce a unique, optimistic and interactive artwork. Stop by the Martin Plaza to experience Domino Projection and become a part of the art!
Stay tuned for the next iteration of this project, coming October 2020.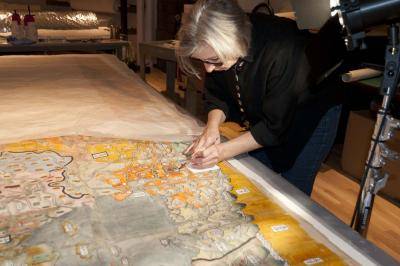 Insight Program: Behind-the-Scenes Conversations
Dynamic conversations between museum staff and partners offer a glimpse into unexpected adventures, creative problem solving, and what it takes to make things tick at the museum.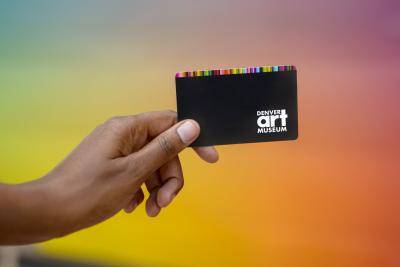 Become a Member
Join today to get free general admission for an entire year, discounted tickets and access to member-only hours for ticketed exhibitions, free general admission guest passes, and much more!
Adult and Access programs are supported by the William Randolph Hearst Endowment for Education Programs, Nancy Benson Education Endowment Fund, CenturyLink Endowment, and Jim Kelley and Amie Knox Education Endowment Fund. Funding is also provided by the Institute of Museum and Library Services, NextFifty Initiative, Colorado Garden Foundation, Colorado Creative Industries, Denver Post Community Foundation, and the residents who support the Scientific and Cultural Facilities District (SCFD)