The Denver Art Museum seeks to establish a safe, welcoming, and respectful environment that ensures the widest range of people will enjoy, learn from, and be inspired by their visit. We aim to support full access to museum spaces, exhibitions and programs for visitors of all ages and abilities. The museum also offers a variety of services for visitors with disabilities.
Service animals such as guide dogs and miniature horses are permitted to assist museum visitors. If you have questions about this policy or need assistance planning your visit, please call the museum at 720-913-0130.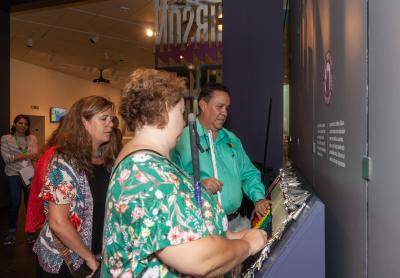 Access Advisory Group
The DAM's Access Advisory Group (AAG) is comprised of individuals who can address the barriers faced in attending museums. The group consists of advocates for multiple disability communities who meet regularly to provide specific input on accessibility in the museum. The members are Denver-based individuals, businesses, and groups who either experience these barriers themselves, who have knowledge of these barriers in their roles as support workers, or who are working in the accessibility field. The AAG supports the DAM's initiatives to be transparent and accountable in the evolving practice of building a fully accessible and inclusive museum environment.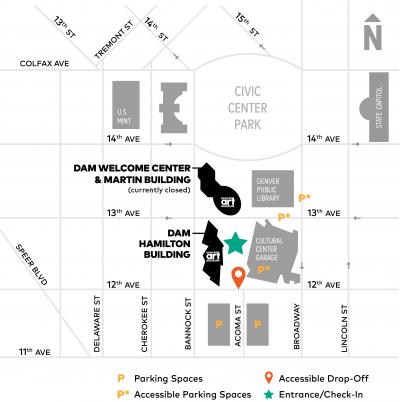 Getting to the Museum
The Denver Art Museum is located downtown at 100 W. 14th Avenue Parkway in the Golden Triangle neighborhood. The Hamilton Building is located on 13th Avenue between Broadway and Bannock Streets, while the Martin Building is currently closed for renovations. The main entrances to both buildings are equipped with power assist doors and all public areas are wheelchair accessible.
Accessible parking spaces are available on 13th Avenue south of Broadway Street (in front of the Denver Public Library) and on the second level of the Cultural Center Complex Garage on 12th Avenue and Broadway. Enter the garage from 12th and follow the signs to the northwest corner elevators.
Parking
There is often construction happening nearby, so please allow extra time for traffic and parking.
Cultural Center Complex Garage
Parking is available at several lots near the museum, including in the Cultural Center Complex Garage at 12th Avenue and Broadway. Accessible parking spaces are located on the second level and electric vehicle charging stations are available on the third level. The garage is open from 6 am-6 pm and is operated by Denver Public Works, not the museum. If you have questions, please contact the Parking Manager at 303-640-1096.
Additional Lots and Street Parking
Street and metered parking spaces and additional parking lots are also located within walking distance. Find a map with nearby parking options on Parkopedia.
Getting Here by Car
From the North: Drive south on I-25 to the Speer Boulevard exit. Turn left onto Speer and continue past Colfax Avenue, then turn left onto 14th Avenue. The museum is six blocks ahead. To park in the garage, continue for one block and turn right onto Broadway, then right onto 12th Avenue.
From the South: Drive north on I-25 to the Lincoln-Broadway exit (207). Go north on Lincoln and turn left at 12th Avenue. The Cultural Complex Garage is two blocks ahead, just past Broadway.
From the East: Head south on I-25 to the Speer Boulevard South exit (212). Continue on Speer Boulevard past Colfax Avenue, then turn left onto 14th Avenue. The museum is six blocks ahead. To park in the garage, continue for one block and turn right onto Broadway, then right onto 12th Avenue.
From the West: Driving east on I-70, take the US-6 East/West 6th Avenue exit (261). After several miles, US-6 freeway becomes a one-way street. Turn left onto Lincoln Street. You are now approaching from the south. Proceed to 12th Avenue and turn left to reach the parking garage, which is just past Broadway.
Getting Here by Public Transit
RTD and Light Rail
You can reach the museum from anywhere in the metro area via the Regional Transportation District (RTD). For more information, visit rtd-denver.com.
The Free MallRide
Park anywhere downtown and take the RTD's Free MallRide to the museum.Get off at Cleveland Place, then walk south through Civic Center Park. For more information, visit downtowndenver.com.
Getting Here by Bike or Scooter
Bike Racks
There are bike racks on the museum plaza for you to lock up your bike or park a scooter. Remember to bring a secure bike lock. If you have a skateboard, you can check it at the front desk when you purchase your general admission ticket.
Scooters
Dockless scooters through services such as Lime, Lyft, and Uber are widely available in Denver.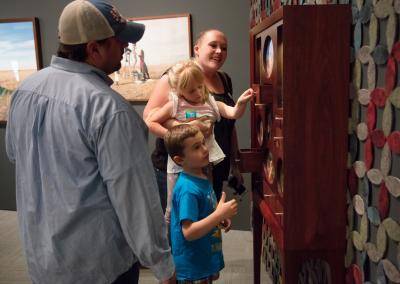 Inside the Museum
Colorado resident SNAP cardholders can purchase $1 per person general admission for up to 10 people total when they show their valid Colorado SNAP debit card at the museum.
All restrooms are wheelchair accessible, and can be found on every level of the Hamilton and Martin buildings. Single-user/family restrooms are available on level one of each building.
Lockers and coat check are closed for the time being. Please leave large bags at home.
Visitors with Limited Mobility
Elevators are located throughout the museum.
Standard manual wheelchairs are available for visitors free of charge on a first-come, first-served basis at the Hamilton Building's welcome center. Portable stools are available throughout the museum and can be used for seating in our galleries.
Visitors Who Are Deaf or Hard of Hearing
American Sign Language (ASL) interpretation and CART captioning are available free of charge for any museum program or event with five business days' notice. To make a request, please email access@denverartmuseum.org.
Captioning, Audio Tours and Audio Transcripts:
Open captions or transcripts are available in English and Spanish for all exhibition videos.
Assisted listening devices:
Select special exhibitions have accompanying audio tours. Printed transcripts of these audio tours are near the exhibition entrance and available in Spanish and English. Please ask a Gallery Attendant for assistance.
Visitors with Vision Loss
Online Exhibition Guides:
Browsable online site with high quality images of artworks (with descriptive alt text) and all explanatory exhibition text included. Available in Spanish and English. Accessible by computer, smart phone or tablet. A few printed copies are available outside the special exhibition entrance. Please ask a Gallery Attendant for assistance.
Visitors Who Are Neuro-Diverse
Social Stories:
Social stories are visual and written guides describing various social interactions, situations, behaviors, skills, or concepts. Social stories can be helpful for families with children with autism and sensory processing differences, first-time visitors, and others who prefer to prepare for new environments and situations.
Download a PDF version of My Visit to the Denver Art Museum in English and in Spanish.
S.P.A.R.K Explorer Packs:
Sensory Processing and Autism Resource Kit (S.P.A.R.K.) Explorer Pack are designed for "on-the-go" sensory needs of students. Designed and created by the Autism Community Store, these packs includes a wiggle seat, noise-reducing headphones, fidget keychains, a bright fan, a visor, and a unique art-themed Seek & Find Weighted Lap Pad. Contact us at access@denverartmuseum.org to reserve one for your upcoming visit.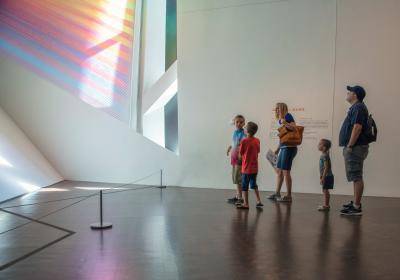 Access Programs
We invite visitors of all ages and abilities to explore the Denver Art Museum in an inclusive and welcoming environment.
Low-Sensory Mornings: Quarterly event for adults and families who prefer a quiet, less sensory-stimulating museum visit.
Custom Access Tours: We provide adaptable and customizable tours to meet the needs of many different visitors and learning styles.
Access programs are supported by William Randolph Hearst Endowment for Education Programs, Nancy Benson Education Endowment Fund, CenturyLink Endowment, Jim Kelley and Amie Knox Education Endowment Fund, Colorado Creative Industries and the citizens who support the Scientific and Cultural Facilities District (SCFD). Verbal Description Tours and Tactile Tables are generously funded by Jon and Linda Carmain and Brad Feld and M. Amy Batchelor.