Welcome to the Denver Art Museum
Today is October 28, 2021. We are open 10 am – 5 pm.
The Martin Building is now open!
With the reopening of the Martin Building (formerly known as the North Building), we're excited to welcome you back to the complete Denver Art Museum campus.
The museum has new galleries, new programs, new restaurants, and new hours (open until 9 pm every Tuesday). Plan your next visit to the museum by viewing our online calendar to see what's happening on the day you wish to visit.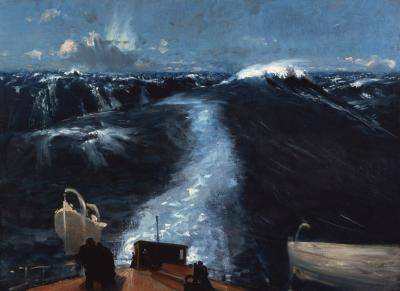 Coming Soon: Whistler to Cassatt
Our next ticketed exhibition, Whistler to Cassatt: American Painters in France, features more than 100 paintings made between 1855 and 1913 in the first comprehensive examination of France's stylistic impact on American painting of the period.
The exhibition opens November 14. Tickets are on sale now.
Dine at The Ponti
The Martin Building is now home to a brand new dining experience, The Ponti. Open daily for lunch and for dinner on Tuesday evenings, The Ponti combines art with dining, presenting a locally-sourced and seasonally-inspired menu with high standards of sustainability.
Follow The Ponti's Instagram account (@thepontidenver) for information about giveaways, a sneak peek at the menu, and more.
Become a Member
With the expansion of the museum's campus and programming, now is an excellent time to become a member. Members enjoy daily free general admission, which allows you the opportunity to endlessly explore all of our amazing collections, reinstalled galleries, and new creative spaces. Visit our permanent collections again for the first time in nearly four years, but also discover new features like the Creative Hub, Sensory Garden, Thread Studio, and a rooftop terrace offering stunning city and mountain views.
Ponti's Masterpiece at 50
Designed by Italian architect Gio Ponti and Denver-based James Sudler Associates, the Martin Building (formerly the North Building) first opened in 1971. Its seven-story silhouette is one of the first-ever high-rise art museums and is the only completed building in North America by the renowned Italian modernist Gio Ponti.
To celebrate the anniversary of the original opening of the building, read five stories about Gio Ponti and his architectural icon on the museum's blog.
Respectful Restoration
In a series of videos on the DAM's YouTube channel, learn how teams of project managers, designers, and contractors worked together to enhance the Martin Building and to create the new Sie Welcome Center, a beacon for creativity that unites the museum's campus.
Share your visit with #DenverArtMuseum