Welcome to the Denver Art Museum
Today is December 7. We are open 10 am – 9 pm.
Help us inspire our community!
The Denver Art Museum is open for joy, wonder, and connection. The reopening of the Lanny & Sharon Martin Building has expanded our ability to serve the community, welcome guests to our city, and preserve a legacy of creativity and imagination for generations to come.
We know the success of the museum is shared by all of us. This year for Colorado Gives Day on December 7, please consider making a 100% tax-deductible contribution to the DAM to help us continue to cultivate creativity and imagination in all our visitors, kids and adults alike. Donate or schedule your gift today and your contribution will get a boost from a $1.6 million fund at Community First Foundation.
Give the gift of art this holiday season
Support the Denver Art Museum this holiday season and get the art lovers in your life the perfect gift! Give the gift that keeps on giving throughout the year and purchase a loved one a membership to the DAM. Use the promo code "COGIFTMEM" and receive 14 months for the price of 12 months.
Or explore a wide assortment of unique gifts for the whole family in the Shop. Purchase items either in person or online at shop.denverartmuseum.org and receive free shipping on orders of $50 or more. Browse our annual holiday gift guide to brainstorm ideas today.
The Martin Building is now open!
With the reopening of the Martin Building (formerly known as the North Building), we're excited to welcome you back to the complete Denver Art Museum campus.
The museum has new galleries, new programs, new restaurants, and new hours (open until 9 pm every Tuesday). Plan your next visit to the museum by viewing our online calendar to see what's happening on the day you wish to visit.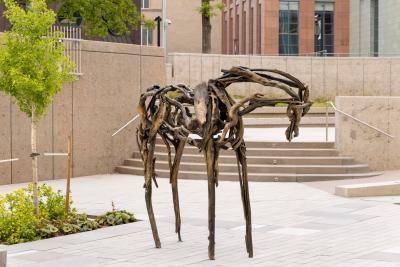 Outdoor Art
Several outdoor artworks can be found across the Denver Art Museum campus. Learn where to find them and the history and artistic intent behind each piece.
Become a Member
With the expansion of the museum's campus and programming, now is an excellent time to become a member. Members enjoy daily free general admission, which allows you the opportunity to endlessly explore all of our amazing collections, reinstalled galleries, and new creative spaces. Visit our permanent collections again for the first time in nearly four years, but also discover new features like the Creative Hub, Sensory Garden, Thread Studio, and a rooftop terrace offering stunning city and mountain views.
Dine at The Ponti
The Martin Building is now home to a brand new dining experience, The Ponti. Open daily for lunch and for dinner on Tuesday evenings, The Ponti combines art with dining, presenting a locally-sourced and seasonally-inspired menu with high standards of sustainability.
Follow The Ponti's Instagram account (@thepontidenver) for information about giveaways, a sneak peek at the menu, and more.
Share your visit with #DenverArtMuseum