Message from

Kathryn Paul and Arpie Chucovich
The Denver Art Museum board of trustees and members of the development committee are grateful for the contributions of generous grantors, donors, sponsors, and members who supported the museum and helped make an impact on our community.
The dedicated donors to the Annual Fund Leadership Campaign (AFLC) continued to provide support for the museum's significant multi-year exhibitions and programs fund. AFLC patrons and other museum major donors were among the first to experience the remarkable Claude Monet: The Truth of Nature exhibition at the spectacular Chairman's Dinner. Guests enjoyed the first preview of the exhibition, followed by an elegant seated dinner. Frederick and Jan Mayer Director Christoph Heinrich, Museum Barbarini Director Ortrud Westheider, and curators Angelica Daneo and Daniel Zamani shared insights on their collaboration and the prolific artist. The next evening, over 700 guests, including members of The Museum Associates and corporate and foundation partners, attended the dazzling Opening Gala. The mayor and governor joined and shared their enthusiasm about Denver being the only North American venue for this exhibition. Guests enjoyed live music, a photo booth, and festive cocktails and hors d'oeuvres.
In March, COVID-19 precipitated a drastic change in the narrative of the year. The challenges of the pandemic were met with philanthropic support from funders stepping up to help the museum weather the crisis, including the Hearst Foundation, Terra Foundation for American Art, Berger Collection Education Trust, Horton Family Holdings, and Wendy and Robert Kaufman.
The Annual Fund received a refresh this year with the launch of a fundraising campaign titled "Coming Together through Art," focusing on monthly social impact themes. With an impactful match offered by museum trustee Amanda Precourt, the museum raised over $400,000 in unrestricted gifts and cultivated over 800 new donors to the museum. We are grateful for the generous giving spirit of our community.
World-Class Exhibitions
Last year, the DAM's world-class exhibitions received support from the following funders. Claude Monet: The Truth of Nature was presented through a significant sponsorship by PNC Bank. Additional funding was provided by Barbara Bridges, Kathie and Keith Finger, John Brooks Inc., Lauren and Geoff Smart, and Fine Arts Foundation. Bank of America's deep commitment to the arts continued through Museums on Us and national tour sponsorship of Natural Forces: Winslow Homer and Frederic Remington. Additional funding came from the National Endowment for the Humanities, The Thomas and Beatrice Taplin Fund, Johnson Foundation of the Rockies, Wyeth Foundation for American Art, Carolyn and Robert Barnett, and Adolph Coors Exhibition Endowment Fund. Through the Federal Council on the Arts and Humanities indemnity program administered by the National Endowment for the Arts, the DAM was the grateful recipient of indemnity coverages for both exhibitions above, plus for Norman Rockwell: Imagining Freedom. Furthermore, Shantell Martin: Words and Lines was supported by CultureHaus, the social and educational support group of DAM.
Thank you all for the wonderful Zoom...It was a treat to see all of the art, and hear your curators describe details. Thank you for making this possible.
In addition to current year support, the museum was proud to receive major awards for future exhibition planning from notable national foundations including Terra Foundation for American Art, Henry Luce Foundation, Blakemore Foundation, E. Rhodes and Leona B. Carpenter Foundation, and Osage Nation Foundation.
Dedicated underwriting advanced institutional initiatives. Sandra and John Fox and Craig Ponzio provided significant support for modern and contemporary Latin American exhibition and program staffing and planning respectively. Kathryn and David Birnbaum funded the Birnbaum Social Discourse Project with a vision to stimulate broader audience access to art appreciation by contextualizing the historical relevance of art to illuminate and challenge both contemporaneous and current social, economic, political, and cultural conditions, and to inspire change. Additional funds for the Birnbaum Project came from Denise and Scott Hasday. Scott Reiman, with additional support from Bellco Credit Union, generously continued to provide underwriting to make Free for Kids possible. Mary Reisher and Barry Berlin supported the Museum Pathways paid internship program. Toyota, along with funding from the residents who support the Scientific and Cultural Facilities District, continued to make the museum's Free Days possible. Toyota also was the presenting sponsor of Untitled: Creative Fusions program, together with the National Endowment for the Arts providing a grant to fund artists working at the museum.
Supporting creative aging programs for older adult visitors, the museum received grants from the Institute for Museum and Library Services and from Colorado Garden Foundation specifically for the construction of a new sensory garden. Furthermore, the NextFifty Initiative awarded funding to engage underserved older adults.
Thank you to the donors who made possible the DAM's nationally renowned education programs: Bank of America, Berger Collection Educational Trust, Cathedral Fund, Colorado Creative Industries, Vera and Joseph Dresner Foundation, Sydney E. Frank Foundation-Colorado, Freeman Foundation, William R. Hearst Foundation, Lorraine and Harley Higbie, Margulf Foundation, Virginia Hill Foundation, Marty Montgomery Docent Education Fund, PNC Bank, Riverfront Park Community Foundation, Linda and Terrence Stevinson, Tuchman Family Foundation, US Bank Foundation, VF Foundation, and Xcel Energy.
We also want to recognize the essential support that comes from our new and renewing corporate partners including UMB Bank, Denver Agency, Snell and Wilmer, and Xcel Energy.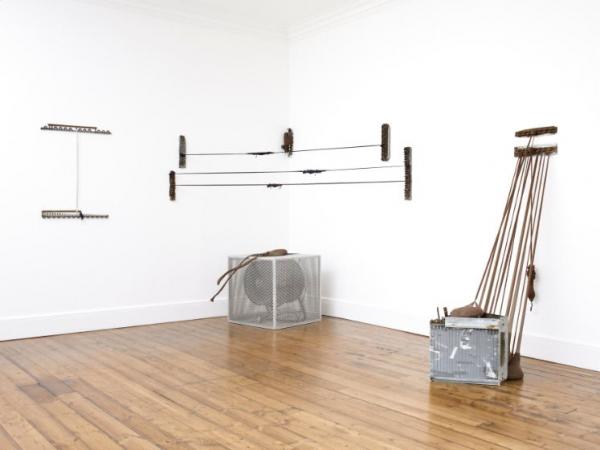 Collectors' Groups
Collectors' Groups members continued to generously support acquisitions that enhanced the museum collections, and enjoyed access to social and enrichment programs, lectures, and other insider opportunities. The newly formed Architecture and Design Collectors' Council purchased Chaise longue PK24, 1965 by mid-century designer Poul Kjærholm (Danish, 1929–1980). Seeking works by female artists as a part of their collecting strategy, the DAM Westerners purchased A Pueblo (Taos), 1919 by artist Eda Sterchi (American, 1885–1969). DAM Westerners also acquired Isleta, 1932, by Robert Gribbroek (American, 1906–1971); a painting fitted for modern landscapes and an early example of work by a Transcendental Painting Group member. The Contemporary Collectors' Circle supported the purchase of A.C.Q. 1, 2017, by Senga Nengudi, a mixed-media installation first seen at the 2017 Venice Biennale. Funds from the Photography Acquisitions Alliance supported the purchases of works by artists Dorothea Lange, Ralph Eugene Meatyard, Kazuo Sumida, Walker Evans, Mike Smith, Roger Mayne, Henry Holmes Smith, and Helen Levitt. The Textile and Fashion Circle supported the acquisition of several garments by couture designers Balenciaga, Gianni Versace, Zandra Rhodes, Madame Grès, Vivienne Westwood, John Galliano, and Comme des Garçons.
The Museum Associates
The Museum Associates, the upper level membership group, was comprised of 363 dedicated households who generously supported the museum. Members enjoyed a beautiful opening gala for Claude Monet: The Truth of Nature, an opening preview of Treasures of British Art: The Berger Collection, and intimate previews of Natural Forces: Winslow Homer and Frederic Remington and Norman Rockwell: Imagining Freedom.
Museum Friends
In 2020, the DAM adopted a new model for affinity groups to connect with like-minded art enthusiasts by developing Museum Friends, an add-on available to members. Museum Friends offered informative, engaging, and insightful lineups to adult audiences through in-person and virtual educational programs and social events. Over 600 households attended Museum Friends programs in-person this year, which saw behind-the-scenes moments with curators, highlights in the museum's collection, unveiling of acquisitions, and deeper dives into exhibitions like Claude Monet: The Truth of Nature. Museum Friends benefitted from free access to 27 lectures across all nine curatorial departments, and 32 social and enrichment programs offered more intimate gatherings for Museum Friends with department-specific interests.
CultureHaus
CultureHaus continued to inspire the next generation of arts philanthropists while offering unique access to the institution and opportunities to explore the local art scene in an interactive and social setting while supporting the museum's exhibitions and programs.
Collectors' Choice
On November 16, 2019, the museum celebrated the 29th annual Collectors' Choice gala, honoring Jana and Fred Bartlit for their visionary leadership and unwavering support of art education and museum programming. The evening raised over $834,000, making it the most successful Collectors' Choice to date. Funds raised went towards the museum's education endowment in honor of the Bartlit's leadership and of the Martin Building Learning and Engagement Center. The gala was co-chaired by Cathey and Richard Finlon, Arlene and Barry Hirschfeld, Sharon and Lanny Martin, and LeeAnn and Robert Morrill and supported by an enthusiastic committee. We are grateful for their extraordinary leadership and support. Special thanks to Jana and Fred Bartlit, Sharon and Lanny Martin and the Frederic C. Hamilton Foundation as Chairman Sponsors, Bartlit Beck LLP, Therese Ivancovich and Greg Sissel, Craig Ponzio, and UMB as Philanthropist Sponsors, and Berger Collection Educational Trust, Griffis Residential / Kathryn and David Birnbaum, Wendy and Robert Kaufman, Elaine Strauch, and Betsey and Bob Unger as Director Sponsors. The evening's program included a tribute film to Jana and Fred, which starred animals from the Dumb Friends League with voiceover from friends of the Bartlits and a surprise performance by country western star Mark Powell, a friend and favorite musician of Jana and Fred.
Vision 2021
For the Vision 2021 Campaign, new pledges came from the Institute for Museum and Library Services for the purchase and installation of a state-of-the-art cold storage, as well as from Arlene and Barry Hirschfeld, Carolyn and Robert Barnett, the June and Sylvan Stool Family Charitable Fund, The Thomas and Beatrice Taplin Fund, and Roger Cohen.
A delightful and informative [Art] hour!
After the museum closed in mid-March due to the COVID-19 pandemic, the museum launched the online series Art Hour: At Home with the Denver Art Museum for museum patrons, Collectors' Group members, The Museum Associates, and Museum Friends. Art Hour stewarded museum patrons and connected them with curatorial departments presenting special topics across a variety of interests. Director Christoph Heinrich kicked off the series with a tour of some of his favorite objects in his home. Through Art Hour, collaborations between collectors and curators created 11 unique offerings all of which could be enjoyed from the comfort of home.
Other programs like "New Name/New Direction: Indigenous Arts of North America" went in depth on the topic of changing the name of the Native arts department and the evolution behind it. Photography and modern and contemporary art lovers contemplated, "What is radical? Is it or isn't it?" in another engaging dialogue.
Patron Access Hours offered early and less-crowded visits to exhibitions once the museum reopened in late June.
Lastly, the DAM received thoughtful bequests from longtime members and volunteers including Marjorie MacLachlan, Doris M. Hayutin, Audre Kemper, Maribeth Morris, James L. and Anne Carpenter, and Elizabeth Johnson.
To all the supporters who contributed generously during this critical time, we offer our most sincere thanks.
- Kathryn Paul, Chair, Development Committee
- Arpie Chucovich, Chief Development Officer