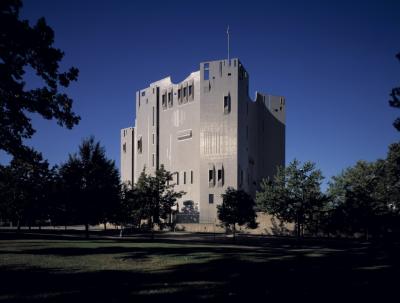 North Building
1971
Maker
Gio Ponti and James Sudler Associates
Gio Ponti and James Sudler Associates
1971
Photo by Jeff Wells, Courtesy of the Denver Art Museum
Photograph © Denver Art Museum 2009. All Rights Reserved.
About the Artist
The Denver Art Museum's North Building was designed by Italian architect Gio Ponti, along with Denver-based architects James Sudler and Joal Cronenwett. Ponti lived in Italy while the North Building was designed and constructed, and the three men sent revisions of drawings back and forth between Denver and Milan. Ponti often referred to the trio as "we three architects." The North Building opened on October 3, 1971, and is Ponti's only building in North America. The form of the North Building provided an identity for the Denver Art Museum and became a symbol of the DAM itself.
Gio Ponti was born in Milan in 1891. He studied architecture there but was forced to interrupt his studies to serve in the Italian army during World War I. After the war, he completed his degree but instead of becoming an architect, he took a position as the artistic director for a ceramics manufacturer. Ponti took on a number of different roles throughout the course of his life, including architect, designer, poet, painter, and editor. As a designer, he created things like silverware, glassware, ceramics, chairs, and even a coffee machine and an automobile.
While coming up with new building designs, Ponti followed a six-step problem-solving process:
He defined the problem.
He looked through many sources for ideas.
He sat and thought for a while to develop his own intuitive ideas.
He made many quick sketches to explore all possibilities.
He gathered all the sketches together and judged them.
Finally, he dropped the rejected drawings on the floor until only the best idea remained.
Ponti was extremely passionate about his work. He continued to work into his 80s, designing his last building in the early 1970s. He died in his family home in Milan in 1979.
What Inspired It
Many visitors have said that the North Building looks like a castle or fortress. These comparisons complement how Ponti understood the function of art museums: to protect treasures. He asked, "If a museum has to protect works of art, isn't it only right that it should be a castle?" Ponti was also interested in creating a building that would reflect light. "I asked the sun and the light and the sky to help me," he said. He chose to cover the building with gray tiles (in several different shades of gray) because the neutral color picks up the sky's reflections better than a strong color would. He described the DAM's North Building as "an invitation to the sun."
Otto Bach, Director of the Denver Art Museum at the time, envisioned a modern, visitor friendly museum where patrons could find the collection they wanted to see easily. Instead of walking through gallery after gallery on one floor, collections are divided into seven floors. Ponti emphasized this verticality in his building design. He overlapped vertical wall segments, arranged the outside wall tiles vertically, and used vertical, narrow windows. The walls within the galleries were designed so that they could be moved around to suit the needs of different curators and their collections. Because of this, there is great variety in gallery design among the different floors of the building.
Details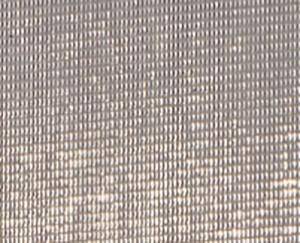 Glass Tiles
The outer walls of the building are covered in over one million flat and pyramidal gray glass tiles that were specially manufactured for the museum. Ponti chose glass tiles because ceramic tiles would not have withstood the extreme temperatures of Colorado. It took workers two years to set all of the tiles by hand.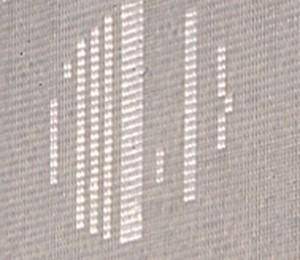 Wall Patterns
Some of the tiles are flat and some are pyramid-shaped. Because the two tile shapes reflect light at different angles, you can see different patterns on the exterior walls depending on the weather, time of day, and season. Flat tiles outline the perimeters of walls and windows. On the south side of the building there are patches of tile with the same gray shade—workers setting the tiles were unaware that there were different shades of gray and didn't shuffle the initial batches.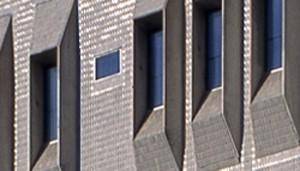 Windows
The windows in the North Building are many different shapes and sizes. There are square, rectangle, and diamond-shaped windows. Some have glass blocks, shutter-like flaps, or bunker-like slits. The elongated hexagon or diamond window is one of Ponti's signature shapes. Sun and light can destroy art, so the architects planned much smaller windows in the galleries than in the lobbies. From the inside, the windows frame views of Denver and the mountains. From outside at night, they create patterns of light.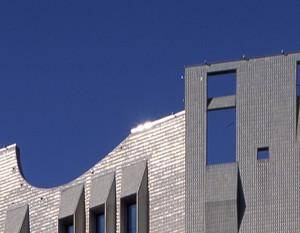 Roofline
Rectangular cutouts and swooping curves along the roofline form what Joal Cronenwett (one of the architects who worked with Ponti) called "sky windows." As Ponti described, "the outline of the museum's crown is open to the sky, the beautiful Denver sky."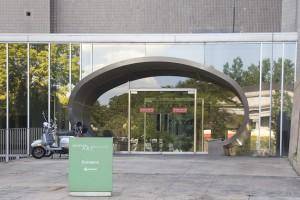 Oval Entryway
Look for the original oval-shaped entryway. It looks like a short tunnel made of metal, leading into the building. We now use a door in a different location as the main entrance to the North Building.
More Resources
Websites
This website features information about both museum buildings, Gio Ponti's North Building and Daniel Libeskind's Frederic C. Hamilton Building. "DAM on Call" contains two podcasts: in the first Daniel Libeskind answer visitors' questions about his design; in the second a variety of scholars and museum staff talk about Ponti's building.
An interactive web-resource that encourages kids to learn about and participate in architecture, including project ideas.
Books
Pevsmer, Nikolaus, John Fleming, and Hugh Honour. Dictionary of Architecture. Woodstock, NY: Overlook Press, 1976.
Complete definitions of architectural terms.
Ponti, Lisa Licitra. Gio Ponti: The Complete Work. Cambridge, MA: The MIT Press, 1990.
A visual catalogue of all the designs and architecture of Gio Ponti's career.
Searing, Helen. New American Art Museums. New York: Whitney Museum of American Art, 1982.
Explores new architecture in American museums.
Winters, Nathan B. Architecture is Elementary: Visual Thinking Through Architectural Concepts. Salt Lake City: Gibbs Smith, 1985.
This text designed for fourth-grade curriculum breaks architecture into design elements, with questions and activities at the end of each concept presentation.
Brown, David J. The Random House Book of How Things Were Built. New York: Random House, 1992.
An illustrated history of more than sixty notable structures of the ancient and modern world. Includes detailed diagrams and glossary of architectural terms.
Clinton, Susan. I Can Be an Architect. Chicago: Childrens Press, 1986.
Briefly describes the work and training of an architect.
D'Alelio, Jane. I Know That Building: Discovering Architecture with Activities and Games. Washington, DC: Preservation Press, 1989.
Twenty-five projects for developing a better understanding of architecture. Recommended for teachers to purchase and use with their class.
Isaacson, Philip M. Round Buildings, Square Buildings, and Buildings That Wiggle Like a Fish. New York: Knopf, 1988.
Explores various elements of architecture and architectural styles around the world in a creative format.
Wilson, Forrest. What It Feels Like to Be a Building. Washington, DC: Preservation Press, National Trust for Historic Preservation, 1988.
Explains how different parts of a building (columns, walls, beams, buttresses, rods, and cables) function to support great weight and stress.
Funding for object education resources provided by a grant from the Morgridge Family Foundation. Additional funding provided by the William Randolph Hearst Endowment for Education Programs, and Xcel Energy Foundation. We thank our colleagues at the University of Denver Morgridge College of Education.
The images on this page are intended for classroom use only and may not be reproduced for other reasons without the permission of the Denver Art Museum. This object may not currently be on display at the museum.