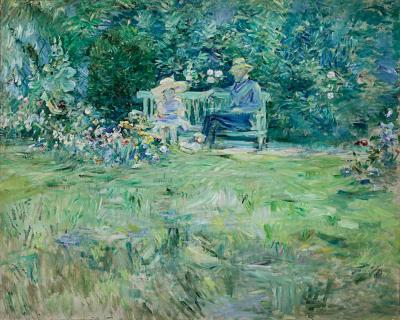 The Lesson in the Garden
1886
Berthe Morisot, The Lesson in the Garden (La leçon dans le jardin), 1886. Oil paint on canvas; 23 9/16 x 28 ¾ in. Collection of Frederic C. Hamilton, bequeathed to the Denver Art Museum, on generous loan from Jane M. Hamilton. Photograph courtesy Denver Art Museum.
Object ID: 34.2017
About the Artist
Berthe Morisot was born in 1841 in Bourges, France to a wealthy aristocratic family. At the time, women of her class were expected to have basic skills and knowledge in the arts, so Berthe and her sister Edma took lessons in drawing and painting. The sisters were quite talented, and their teacher claimed that they both could become real painters, a potentially scandalous notion for women of their station. Supported by their parents, the sisters continued their training. Berthe exhibited in the Salons (formal exhibitions organized by the French government) from 1864 to 1868 and was very well received. She met Édouard Manet, a fellow French artist, who then changed her fate by introducing her to not only a new direction in painting, but also to his brother Eugène in 1874, whom she would marry.
Even though Berthe found success in the Salons, she began changing her approach to painting and decided to join the Impressionists in their very first exhibition in 1874. Her style has been described as "quintessentially impressionist" and she has been called the "most natural painter." She enjoyed friendships with many artists throughout her life, but due to her being a woman of her class, she could not participate in much of Parisian artist culture, including drinking, café-sitting, and public appearances without an escort. Despite these challenges, Berthe became one of the central figures in the Impressionist movement. Berthe died in Paris in 1895, at the age of 54.
What Inspired It
Although Berthe's early style was more traditional due to her formal training, she became heavily influenced by the unconventional and modern approach to art espoused by Édouard Manet and of the later Impressionists. For this painting, Berthe may have completed part of it en plein air, or outside and onsite. Here, In this painting, Berthe's loose brushwork and vibrant color palette work together as she attempted to capture the effect of dappled light filtering through the trees into the garden. The focus here is not on the two figures, but on the surrounding landscape, lush and slightly wild.
Details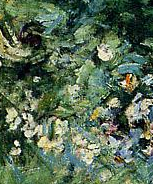 Brushstrokes
Berthe used painterly brushstrokes, in which oil paint is applied so thickly, the brushstrokes are able to be seen, as well as impasto, in which layers of paint cause globs to be almost three dimensional. The artist is often called "quintessentially impressionist" partly because she used both of these brushstrokes so well and frequently.

Expression-less
The figures are given no distinct features, common for many impressionist artists who were more interested in capturing a fleeting moment in time.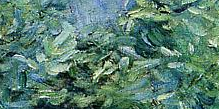 Movement
A sense of movement permeates this painting due to the quality of the brushstrokes. The trees seem to sway, the grass seems to blow in the wind, and the hands and feet of the figures seem blurry as they gesture.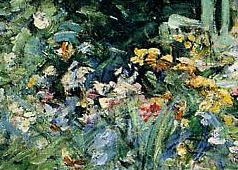 Bright Colors
Berthe embraced a vibrant, colorful palette with countless shades of green, yellows, blues, and pops of orange in the flowers and cattails.
More Resources
Funding for object education resources provided by a grant from the Morgridge Family Foundation. Additional funding provided by the William Randolph Hearst Endowment for Education Programs, and Xcel Energy Foundation. We thank our colleagues at the University of Denver Morgridge College of Education.
The images on this page are intended for classroom use only and may not be reproduced for other reasons without the permission of the Denver Art Museum. This object may not currently be on display at the museum.