Fox Games
1989
Artist
Sandy Skoglund, American, 1946-

Born: Weymouth, MA
Work Locations: New York, NY
sculpture, installation
Cast polyurethane, painted chairs, tables, napkins, baskets, vase, spoons, glasses, plates, plastic, and mixed media installation
Purchased with funds from Mr. and Mrs. Bruce Benson, Jan and Frederick Mayer, Volunteer Endowment Fund, Ginny Williams Gallery, the Chanzit family, Suzanne Farver and George Berky, Richard and Cathey Finlon, Dr. William F. Griffith, Dr. and Mrs. Charles Hamlin, Dan and Annette Jacobs, the Kuyper Foundation, the David H. Lawrence Foundation, Andrew W. Milner, Judy and Ken Robins, Mimi and Eric Ruderman, Christy S. Sebastian, Lewis and Susan Sharp, Lewis and Sally Story, Joyce and Ted Strauss, Patterson B. Williams, the Vargas family, and an anonymous donor.
1991.36A-V
About the Artist
Sandy Skoglund attended Smith College in Massachusetts and graduate school at the University of Iowa. She was interested in a variety of artistic disciplines and studied filmmaking, printmaking, and multimedia art. Skoglund moved to New York City in 1972 and developed an interest in photography as a way to document her large-scale pieces. Skoglund's combination of interests is demonstrated in the hybrid of elements she uses to create her pieces, which are usually elaborate and immersive installations of imaginary, sometimes outlandish scenes. She uses aspects of theater to set the stage and cast of characters, sculpture to create interesting spaces, and paint to add bold color. Skoglund says, "If I had to say anything about my work, I think it would be that it's almost a theme park. You can experience it in many ways."
With much of her work, the final product has been a photograph of a meticulously staged installation rather than the actual installation itself. But Fox Games is the installation itself. The Denver Art Museum was the first museum to acquire the installation in addition to the photograph of the installation.
What Inspired It
In Fox Games, viewers are physically immersed in the work of art as they are able to wander through the installation. "I use familiar spaces… and elements like furniture to take viewers out of the museum and place them in… a place that feels familiar to them. Then I interfere with that reality by changing the elements, changing them in terms of materials," Skoglund says. Her artworks often take the ordinary and make it into an almost dreamlike fantasy. In this piece Skoglund submerges the viewers in a completely red environment and incorporates animals into what is normally a setting used strictly by humans. According to Skoglund, the foxes are not experiencing this environment in the same way humans would. "The foxes don't see tables, they don't see chairs, they don't know they're in a restaurant. They just experience different levels of height to jump on."
Skoglund tries to create multiple meanings for her viewers. This piece could be a statement about how strange the familiar spaces in our lives can be. It might also be a humorous take on our tendency to go through life unaware of the magic in the spaces we move through every day. For Skoglund, it's all about allowing viewers to participate in the process of making sense out of what they are seeing.
Details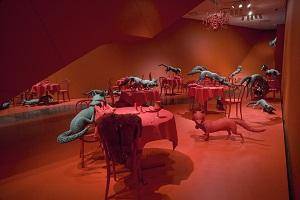 Color
The entire restaurant scene is coated in a flat, red paint, while all of the foxes (with the exception of one red fox) are gray. For some viewers, as their eyes adjust to the all red environment, the gray foxes become a glowing green.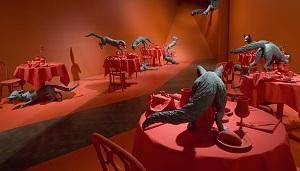 Details
Skoglund includes lots of details in the red restaurant scene, which contains about 700 parts. A partial inventory includes 10 tablecloths, 20 chairs, 15 bread baskets, 124 rolls and breadsticks, salt shakers, forks, knives, plastic flowers, vases, a squirrel, 27 gray foxes, and 1 red fox. All the details of a typical restaurant setting are there (along with some clearly unusual ones!)—the only thing that's missing is humans.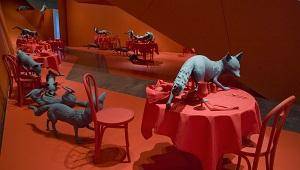 Several Happenings at Once
The foxes in this piece have completely taken over the restaurant. Notice a fox in mid-air as it leaps between tables. Others lurk around on the ground or pounce and play together.
Squirrel
One of the foxes holds a red squirrel in his mouth.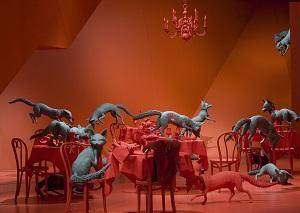 Repetition
There are many repeated figures in this piece: tables, foxes, wine glasses, and chairs, among others. There are even multiple foxes in the same position dispersed throughout the installation.
More Resources
Sandy Skoglund talks about Fox Games
Artist Sandy Skoglund discusses the choices she made when choosing the hue and intensity of the colors for the Denver Art Museum's Fox Games.
Websites
Explore the artist's official website, with images of previous work, videos and essays.
Short biographical entry about Skoglund from the Museum of Contemporary Photography.
This site offers various types of writing assignments, including a lesson plan about creating a class newspaper.
Books
De Oliveria, Nicolas et al. Installation Art in the New Millennium: The Empire of the Senses. New York: Thames & Hudson, 2004.
This book contains images of installation art from around the world.
Funding for object education resources provided by a grant from the Morgridge Family Foundation. Additional funding provided by the William Randolph Hearst Endowment for Education Programs, and Xcel Energy Foundation. We thank our colleagues at the University of Denver Morgridge College of Education.
The images on this page are intended for classroom use only and may not be reproduced for other reasons without the permission of the Denver Art Museum. This object may not currently be on display at the museum.