¿Being Home?
2009
Artist
Rupprecht Matthies, German, 1959-

Born: Hamburg, Germany
Work Locations: Hamburg, Germany
installation
Plexiglas, wood, fabric, Styrofoam, and acrylic paint
Museum Purchase with funds from Nancy Benson
2010.462.1-9
About the Artist
Rupprecht Matthies was born in 1959 in Hamburg, Germany, where he lives and works today. His university studies in sociology continue to inform his installations and works of public art, which are often created in collaboration with various community groups and individuals. Matthies often turns language, text, and words gathered from his creative exchanges with his collaborators into sculptures, paintings, and installations. In turn, the words that fuel the creation of his art also spark conversations and exchanges among viewers of his artwork.
What Inspired It
Matthies often looks to community groups for inspiration, often involving many other individuals in the creation and execution of his work. Matthies encourages participants to lend their own creativity to his process, and feels that the more individuals contribute, the richer his final product will be.
To make ¿Being Home?, Rupprecht Matthies held workshops with newly arrived refugees from around the world, asking them to share the stories of their experiences resettling in Denver.
He asked them:
What surprised you about the United States?
What did you leave behind?
What English word stays in your thoughts?
Is there a word in your own language that you miss?
In response to these questions, Matthies' collaborators shared personal histories, stories, and anecdotes of a range of human experiences. Through conversation and discussions, Matthies and his collaborators distilled these rich stories into single words. A farmer from Bhutan who is having a difficult time finding work in Denver chose the word "cardamom," the crop he used to grow in Bhutan. A child from Tanzania who had come to love American food chose the word "hamburger." A young man from Iraq who missed swimming in the river near his former home submitted the word "river" in Arabic. Hundreds of words were submitted, each telling part of a larger story of loss, hope, past and future.
From these discussions, Matthies gathered words in many languages: Karenni, Nepali, Swahili, Amharic and many others. In turn, he carved these words in wood, Plexiglas, and foam. Finally, he incorporated each word sculpture into his installation, which he began to see as a 'landscape of words.' Words carved in styrofoam float near the ceiling of his installation as word clouds; smaller words carved in Plexiglas and hung as mobiles created a sky of words; tall words carved in wood and installed in a cluster became a grove of word trees.
Details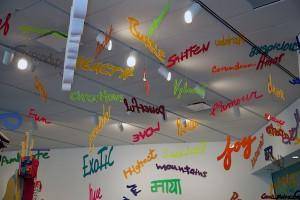 Juxtaposition of Words
Often two words hung near one another will suddenly combine to evoke a new concept. As one walks around the installation, new meanings emerge.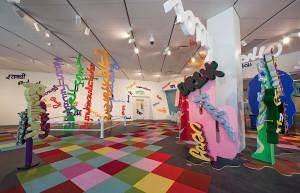 Multiple Materials
Matthies used wood, Plexiglas, Styrofoam, and soft foam covered in fabric to create all of the words in the installation. Matthies invited many volunteers to cover the soft-foam words in fabric. He felt that the more creative minds were involved in the process, the richer the final product would be.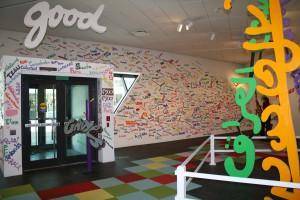 Paper Words
Visitors to the space can cut their own word out of construction paper and add it to Matthies' installation.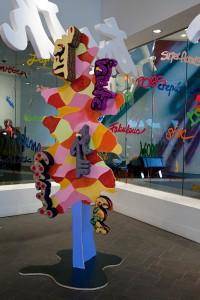 Multiple Languages
Matthies asked refugees new to Denver who were from all over the world to contribute words. You'll find words in Arabic, Karenni, Nepali, English, French, and Spanish, among others.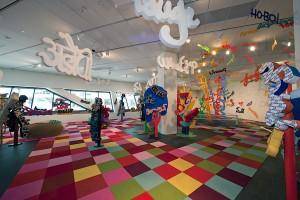 Color
Matthies purposefully chose multiple bright colors for his installation which gives the space a warm, inviting feel.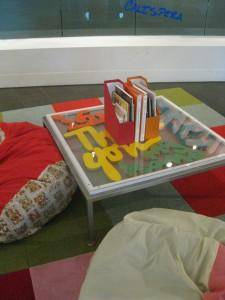 Glossary/Dictionary
A glossary of words was created so that visitors can find the English translation of any particular word in the installation. "Translation" labels were added to the soft pillows as well.
More Resources
¿Being Home? Installation at DAM by Rupprecht Matthies 2011
Artist Rupprecht Matthies created a collaborative, community-inspired installation called ¿Being Home? at the Denver Art Museum in 2009 and 2011. Project was supported in part by the Hamilton Collaborative: a Visiting Artist Program of the University of Denver and the Denver Art Museum, generously funded by the Hamilton Family Foundation.
Websites
This website features another installation by Matthies in Germany that ran from August 1, 2001 - October 6, 2001.
This site features information and images for another installation by Matthies, which incorporated words from the Upper Sorbian language in Germany.
Materials from Teacher Workshop on March 20, 2010
Video of artist Rupprecht Matthies speaking about the creative process behind ¿Being Home?
Powerpoint from the Creativity Presentation given by Ellen Spangler
Powerpoint from presentation given by artist Rupprecht Matthies
Powerpoint from "Embrace Fatima!" presentation given by teacher Janelle Sowers
Handout from The Written Word Break-out Session by Sharon Rouse
Handout from Break-out Session by Emilie Buck
Handout from Using Artworks and Writing Prompts to Inspire Meaning Break-out Session, by Ellen Spangler
Handout from Messages in a Bottle Break-out Session by Dawn Buckingham
PDF of teachers' responses to Rupprecht Matthies' prompt, "What Interactive Project (Product or Process) Have You Done With Your Students, or What Interactive Projects Would You Like to Do?"
Funding for object education resources provided by a grant from the Morgridge Family Foundation. Additional funding provided by the William Randolph Hearst Endowment for Education Programs, and Xcel Energy Foundation. We thank our colleagues at the University of Denver Morgridge College of Education.
The images on this page are intended for classroom use only and may not be reproduced for other reasons without the permission of the Denver Art Museum. This object may not currently be on display at the museum.