Album Quilt
1840s-50s
Artist
Elizabeth Sanford Jennings Hopkins, American, 1824-1904

Born: Connecticut
Work Locations: New York
quilt
hand pieced and appliquéd cotton and silk; silk, cotton, and linen embroidery; pen and ink; hand quilted with raised work (trapunto)
Neusteter Textile Collection: Funds from Mrs. Irene Littledale Downs, Mrs. August Kern, and Mrs. Alexander Girard by exchange
2007.38
About the Artist
Album quilts were often made by a group of women, with each member contributing a block. This quilt, however, was made entirely by Elizabeth Hopkins. Born in Connecticut, Elizabeth made this quilt after marrying her husband Charles Hopkins in 1841 and moving to Port Jefferson, Long Island. Charles was a seaman and it is believed that in the early days of their marriage, Elizabeth accompanied him on some of his trips, during which she saw examples of album quilts from Baltimore. Album quilts flourished in the 1840s and 1850s along the Eastern seaboard. Each block of an album quilt has a different motif, made by stitching shapes cut from solid or patterned material to a background fabric. Elizabeth filled some of the blocks on her quilt with images that were relevant to her family. This quilt remained in the Hopkins family until it was acquired by the Denver Art Museum in 2007.
What Inspired It
Album quilts of this type tended to use solid or small-scale printed fabrics. Many of the floral and decorative motifs on the Hopkins quilt are common to album quilts of the period, but some of the images are more personal. Flying the banner "HOPE," the sailing ship surrounded by blue fish references Elizabeth's husband's life as a seaman and the maritime community in which she lived. Hopkins also quilted a lighthouse and a heart on the ship block. Another block (fourth row down, third column across) may represent a compass, a navigational instrument used by sea captains. The quilt block that shows a well-furnished interior and the blocks with musical instruments suggest that the family lived in a comfortable home.
Details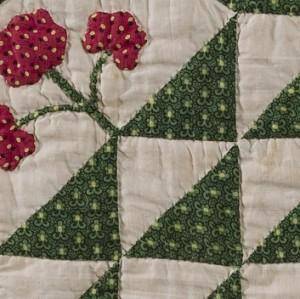 Geometric and Organic Shapes
Hopkins used both geometric and organic shapes. Geometric shapes, like triangles and diamonds, were used to create the baskets and star-shaped images. Organic shapes, with their more natural, curvy lines, were used to create leaves, flowers, and fruits.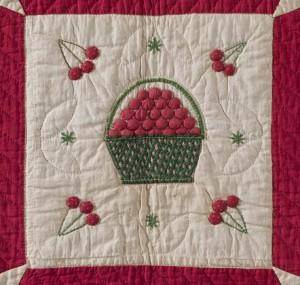 Fruit and Flowers
Various fruits and plants—grapes, apples, pears, strawberries, cherries, and tulips—can be found on different blocks throughout the quilt. Some of these details are padded and project slightly from the surface of the quilt.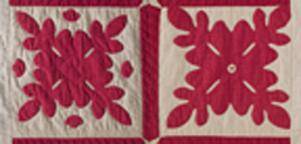 Slight Variations
The two outer blocks of the third row from the top are quilted with a snowflake-like symmetrical pattern. Though they look similar, there are small variations in design. For example, look at the center of each snowflake; one has a heart and the other has a circle.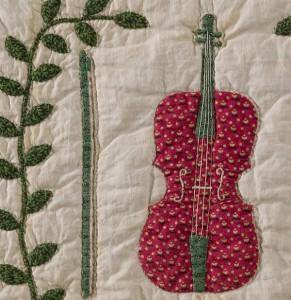 Printed Fabrics
Several green and red printed fabrics were used for various parts of the quilt. Look for the green printed fabric on the outside perimeter of the quilt and the red printed fabric used to create the violin and strawberries.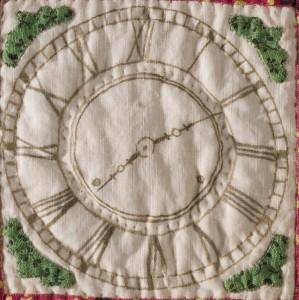 Hand-drawn Details
The tiniest details on the quilt—like the notes on the sheet music and the face of the clock—are drawn by hand.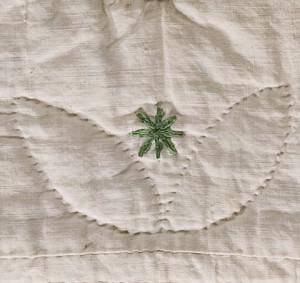 Quilting Patterns
The stitching on the quilt not only holds the layers of fabric together but also allows for additional patterns and designs. Hopkins created hearts and leaf-shaped designs with her stitches.
More Resources
Hand Appliqué
A step-by-step demonstration on how to appliqué two pieces of fabric by hand. Describes the process of using templates, marking, cutting, pinning, and threading. High quality zoom-in images demonstrate hand and needle work.
Websites
Explore this site for the PBS documentary Why Quilts Matter: History, Art & Politics. Watch a trailer for the series, and previews for each of nine episodes. Image Resource Guides accompany each episode.
Provides a more extensive history of quilting.
Books
Marler, Ruth. Art of the Quilt. Philadelphia, PA: Courage Books, 2001.
This book provides a short history of quilts and quilting tradition for all over the United States.
Mitchell, Cindi. Math Skills Made Fun/Quilt Math. Teaching Resources, 2003.
Kids will have fun solving multiplication, division, fraction, and decimal problems using quilt kaleidoscope designs.
Funding for object education resources provided by a grant from the Morgridge Family Foundation. Additional funding provided by the William Randolph Hearst Endowment for Education Programs, and Xcel Energy Foundation. We thank our colleagues at the University of Denver Morgridge College of Education.
The images on this page are intended for classroom use only and may not be reproduced for other reasons without the permission of the Denver Art Museum. This object may not currently be on display at the museum.