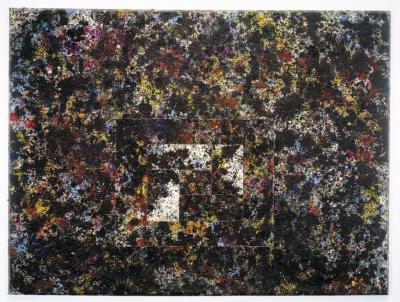 Abacus Sliding
1977
Maker
Sam Gilliam, United States
Sam Gilliam, United States
1977
90 in. X 118 in.
Funds from the National Endowment for the Arts and the United Bank of Denver, 1978.10
Photograph © Denver Art Museum 2009. All Rights Reserved.
About the Artist
Born in Mississippi in 1933, artist Sam Gilliam received his Master of Arts degree from the University of Louisville in Kentucky. After moving to Washington D.C., Gilliam taught at various public schools and has been teaching at the collegiate level since 1967. While living in the east, Gilliam was greatly influenced by Color Field artists, artists who experimented with the use of pure color to create simple, abstract shapes. With his paintings, Gilliam tries to achieve the spontaneity of "letting things happen" while still controlling the technical processes by which they do. He has experimented with many kinds of paints, stains, and glazes, and has sometimes allowed his colors to stain the canvases. To achieve many different effects (density, sheen, transparency, warmth), he has brushed, poured, dripped, and raked the pigments across the canvas. In the early 1970s he removed his canvases from their stretchers and hung them like curtains from the walls and ceiling to let gravity help determine their form. Gilliam continues his experiments with different paint and materials to this day.
What Inspired It
Gilliam believes, as a fellow artist once stated, that "painting can be about anything, but it can't be about nothing." Abacus Sliding doesn't show us a picture of something we can recognize. Instead, Gilliam seems to suggest a mood or thought by using only shape and color. Choosing not to paint the outward appearance of things leaves him free, he says, to "express the inner landscape of things." He layers different colors of paint to create a sense of depth, first covering the canvas with bright colors, then veiling them behind a top layer of black. Certain colors seem to float to the surface out of the depths of the layers below. According to Gilliam, Abacus Sliding "experiments with paint as paint and as a material that is controlled by the viewer." This might suggest that Gilliam hopes to enable viewers to choose how they want to look at and explore the painting.
Details
Depth
Gilliam shows that a painting, which we think of as two-dimensional, can have three dimensions. He builds up the flat surface both by loading it with pigment and by placing canvas rectangles onto it.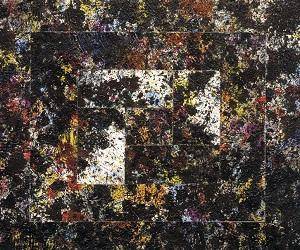 Mathematics
The title, Abacus Sliding, links this painting to mathematics. An abacus is a centuries-old device made up of a frame with parallel bars strung with sliding pieces, originally beans, used for counting. (Think of it as the original calculator.) Gilliam also uses geometry to repeat the outside shape of the canvas inside the painting.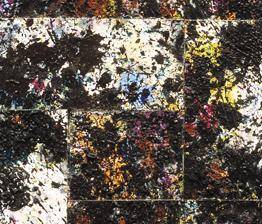 Rectangles
In this painting Gilliam emphasizes the properties of canvas and paint by using a large rectangle of canvas and echoing that shape, cutting out smaller rectangles and inserting them back onto the surface.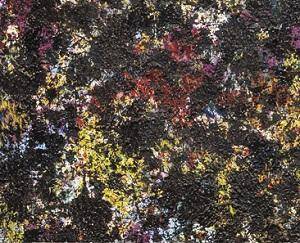 Color
Gilliam's painting is mostly black, but many viewers don't see it as gloomy. Bright layers of color seem to float just beneath the top layer of thick black paint. Try to follow a particular color as it draws your eyes across the entire canvas.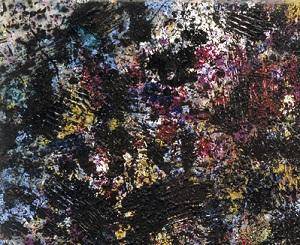 Hints of Art History
Compare this painting to a stained glass window, with its vivid colors bursting through the darkness. It might be helpful to look at the stained glass window at the Chartres Cathedral in France.
More Resources
Sam Gilliam: Premonitions and Reflections
The artist talking about his art and influences, reflecting on art in history, and the role of art in the world.
Japanese Abacus School in Oregon
The Abacus - How to Use This Ancient Wonder
Amazing Abacus Math Video
Websites
Biographical information on Sam Gilliam.
Great resource showcasing video clips of an interview with Sam Gilliam.
From Creativity Portal, this site includes links to projects and information about collage, assemblage, and photomontage art.
Funding for object education resources provided by a grant from the Morgridge Family Foundation. Additional funding provided by the William Randolph Hearst Endowment for Education Programs, and Xcel Energy Foundation. We thank our colleagues at the University of Denver Morgridge College of Education.
The images on this page are intended for classroom use only and may not be reproduced for other reasons without the permission of the Denver Art Museum. This object may not currently be on display at the museum.